Son of DePauw Coach Bill Lynch to Start at QB for Ball State
September 1, 2004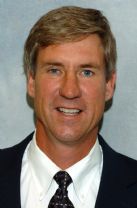 September 1, 2004, Greencastle, Ind. - "Even when Bill Lynch was hired as head coach [at] DePauw earlier this year, Joey's commitment never wavered," notes an article in the Ball State Daily News on Joey Lynch, the son of DePauw University's new head football coach. Joey, a sophomore, will start at quarterback when Ball State opens its season Thursday. He was recruited by his father when Bill Lynch was head football coach at BSU. The elder Lynch was tapped to head DePauw's football program on December 23, 2003 (read more here).
Ball State plays Boston College Thursday evening. Writer Mike Genet notes that "dad should still get to see the son play after all, provided he wraps up DePauw's practice and drives over in time. "It's going to be kind of crazy,' Bill Lynch said. 'I'll hustle over there hopefully get there about halftime.'"

Read the complete story at the Web site of Ball State's student newspaper by clicking here.
DePauw opens the 2004 football season this Saturday at Rhodes College. Read Bill Lynch's thoughts on the upcoming campaign in this previous story.
Listen to Saturday's game live on student station WGRE by clicking here. Kick-off is at 1:30 p.m. EST.
Back