Former Congressman Bob Franks '73 Among Those Reportedly Eyeing Possible Run for NJ Governor
August 31, 2004
August 31, 2004, Greencastle, Ind. - Bob Franks -- president of the HealthCare Institute of New Jersey, a former U.S. Congressman from that state and a 1973 graduate of DePauw University -- is reported to be considering a run for governor of New Jersey. Two stories in the Star-Ledger of Newark, New Jersey list Franks among the Republicans considering a run for the seat should the current governor, James E. McGreevey, decide to leave office by September 3. Bob Franks made an unsuccessful run for the governor's seat in 2001.
Gov. McGreevy, under fire because of a controversy, recently announced his intention to resign by November 15. If he were to leave by Friday, his departure would trigger a special election on November 2. "Republicans who want McGreevey's office are at the ready in case the state's volatile political landscape suddenly shifts again and a special election develops," the newspaper reports. "For the GOP in New Jersey, Monday's opening of the Republican National Convention means the campaign is on. Not

the presidential -- the gubernatorial. Republican politicians vying for their party's nomination next year are using the convention as a profile-boosting opportunity, hitting pre- and post-convention parties, making contacts with potential campaign contributors and showering New Jersey delegates with favors large and small."
Bob Franks is among those gathered in New York City, the Star-Ledger notes. For the national party, the convention is about uniting behind the candidate and spreading the party's message. For state politicians, it's also about their own personal politicking. 'It's a convenient way to get everyone in one place at one time, instead of traveling around to 21 counties. We're going to have 400, 500 people at these parties,' said lobbyist Bill Palatucci, finance chairman for the state GOP."
Read the story by clicking here.
From 1993 to 2000, Bob Franks served four terms in the U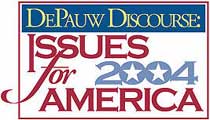 .S. House of Representatives, representing New Jersey's Seventh Congressional District. Before serving in Congress, Franks was a member of the New Jersey Assembly for 13 years. Franks will be among those making presentations at "DePauw Discourse 2004: Issues for America," a three-day election issue forum hosted by the Washington C. DePauw Society, September 16-18. For more information on the event, which features a Timothy and Sharon Ubben Lecture by Ambassador L. Paul Bremer III, former presidential envoy to Iraq, click here.
Back