DePauw's Top Tier US News Ranking Noted by United Methodist News Service
September 2, 2004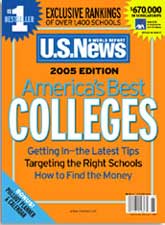 September 2, 2004, Greencastle, Ind. - "Nearly 30 United Methodist-related schools are listed among America's top institutions in the 2005 edition of U.S. News and World Report's 'America's Best Colleges,'" notes an article by the United Methodist News Service. Kathy L. Gilbert writes, "Dickinson College, Carlisle, Pennyslvania, is the highest-ranked United Methodist-related school among the 217 U.S. liberal arts institutions. It is tied at 40th. United Methodist-related DePauw University, Greencastle, Indiana, is 43rd."
The story quotes Wanda Bigham, staff executive with the United Methodist Board of Higher Education and Ministry: "Each time the U.S. News and World Report is published, I look eagerly to see where the United Methodist-related colleges and universities are listed, and I am proud when I see rankings that indicate the quality of our educational institutions has improved or been maintained."
The text adds, "The establishment of schools has been part of the Methodist tradition since the earliest days of the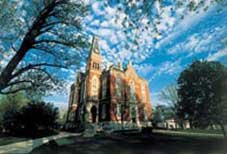 movement. Today, there are 123 United Methodist-related schools."
DePauw was founded in 1837 as Indiana Asbury University. Read more about its origins here.
Access the UMNS article by clicking here.
Learn more about DePauw's fifth consecutive appearance in U.S. News' top tier of national liberal arts colleges here.
Back