Hanover's Wayne Perry '72 Closing In on Indiana Coaching Record
September 3, 2004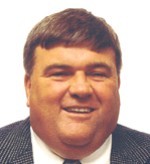 September 3, 2004, Greencastle, Ind. - "If Hanover gets as many victories this season as it did last year, Wayne Perry will become the winningest college coach in Indiana football history," begins an Associated Press story. Perry is a 1972 graduate of DePauw University. His "Panthers open the season on Saturday at Thomas More with Perry seven wins behind the career record of 165 held by the late Butler coach Tony Hinkle."
The AP's Steve Herman writes, "Hanover was 8-3 and won its second straight Heartland Conference championship last year. Perry, in his 23rd season at Hanover, has a 158-65-2 career record, two victories behind Franklin's Red Faught for second place in games won by an Indiana college coach. Another eight-win season would move him past the record that Hinkle finished with 35 years ago ... Fourth among all-time coaching wins is Nick Mourouzis, who retired from DePauw after last season with 138 career victories. After Perry, the winningest active coaches are Kevin Donley, who won 82 games at Anderson and since 1998 at St. Francis, and Bill Lynch, who won 76 games at Butler and Ball State and is starting his first season as the successor to Mourouzis at DePauw. Lynch will make his DePauw debut on Saturday at Rhodes."
The story continues, "Perry, a former DePauw player and graduate

assistant, coached at East Central High School in 1974-78, became offensive line coach at Hanover in 1979 and replaced Pete Compise as head coach in 1982. It took him less than seven seasons to break the former Hanover record of 40 victories set by John Van Liew in 1942. 'I'm fortunate that it's happened as quickly as it's happened, but I figure I'm going to be around for a while,' he said. 'My goal is 200 wins, so I've still got a long way to go.'"
Read the story at the Web site of California's Monterey County Herald by clicking here, or in Minnesota's Duluth News Tribune here.
Back