Eugene S. Pulliam Symposium: Acclaimed Journalists to Discuss 'What Leaders in the 21st Century Need to Know'
April 20, 2000

April 20, 2000, Greencastle, Ind. - Three nationally-acclaimed journalists will discuss "What Leaders in the 21st Century Need to Know" on Saturday, April 29, in a DePauw University symposium named in honor of Eugene S. Pulliam, former publisher of the Indianapolis Star and News and 1935 graduate of DePauw. The discussion will focus on how the next generation of leaders can become productive members of society living in a global marketplace, responding to rapid cultural changes, and addressing societal issues. Scheduled at 10 a.m. in East College, Meharry Hall, the symposium is free and open to the public.
Panelists will include:
Gloria Borger, a U.S. News and World Report political columnist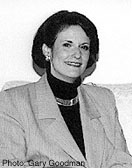 and CBS News analyst, appears regularly on Sunday morning's Face the Nation. A respected print journalist, she was previously Newsweek's chief congressional correspondent before joining U.S. News, where she writes the "On Politics" column.
Roger Wilkins (below left) has served as a National Public Radio commentator since 1990 and as the Clarence J. Robinson Professor of History and American Culture at George Mason University since 1988. His career includes more than a decade of federal g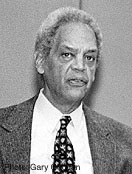 overnment service as a lawyer and as administrator in the Justice, Commerce and State departments. A former civil rights activist, Wilkins wrote for the Washington Star, New York Times and Washington Post. He also was a radio commentator for CBS News. Wilkins, a Pulitzer Prize winner for his Watergate coverage, has written and spoken extensively about his observations of national and international human and civil rights issues.
Garry Wills, adjunct professor of history at Northwestern University, has authored more than 15 books and numerous articles, including Saint Augustine, Jack Ruby and John Wayne's America. Wills has earned numerous literary honors, including the Pulitzer Prize and the National Book Critics Circle Award. Wills also received the Peabody Award for Excellence in Broadcasting for writing and narrating "The Choice" for Frontline in 1988.
Moderating the panel will be Ken Bode,
dean of the Medill School of Journalism at Northwestern University.
The symposium will conclude a weekend of events celebrating The Campaign for DePauw: Leadership for a New Century, a fund-raising campaign launched in 1996. The University has raised more than $317 million -- more than double its original goal -- to support student scholarships, faculty development initiatives, distinguished professorships and fellowships, academic programs, and campus and facility projects. This is the largest amount raised to date by a liberal arts institution.
The symposium will follow the dedication of the Eugene S. Pulliam Center for Contemporary Media on the DePauw campus.
Back