Three in a Row for Music Educators
March 30, 2000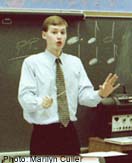 March 30, 2000, Greencastle, Ind. - Driven by an intense desire to share music with others, Matthew S. Clifford '00 has been named "Future Music Educator of the Year" by the Indiana Music Educators Association and the Music Educators National Conference. It is the third consecutive year a DePauw student has received the award. Teaching is "a true test of self," Clifford explained. "You learn how patient you are. You learn how creative you are. You learn how well you can think on your feet. You also need a huge bag of tricks."
Craig T. Paré, director of University bands and associate professor of music, describes Clifford as "hungry to learn and teach." Paré said Clifford has "taken advantage of every possible opportunity here at DePauw, and actively sought out experiences beyond DePauw."
Clifford credits DePauw for giving him tremendous opportunities to learn and grow: Winter Term, internships, close proximity to four school systems, and the chance to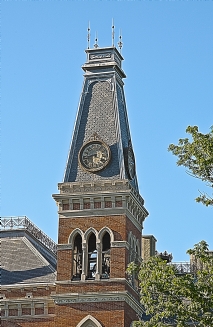 work with music education faculty members Paré and Caroline Perkins, assistant professor of music education. He sees them as great role models who know what it takes to be really successful. "You come through their program knowing your stuff," he said.
Another role model for Clifford is his friend and roommate, Nicholas A. Parcell '00. Parcell received the Future Music Educator of the Year award last year. "I can't take credit for a lot without including Nick," Clifford said.
Clifford did his student teaching at Plainfield (Ind.) Community Middle School and High School during the spring semester.
Back