Bernard Kilgore '29 Named 'Business Journalist of the Century'
March 10, 2000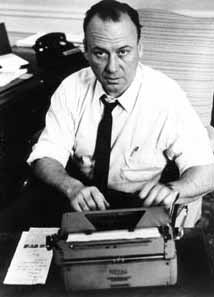 March 10, 2000, Greencastle, Ind. - DePauw University graduate Bernard Kilgore, a visionary editor of the Wall Street Journal and longtime president of Dow Jones & Company, has been selected as the Business Journalist of the Century. The announcement was made during TJFR's Business News Luminaries of the Century Awards dinner at New York's Waldorf Astoria, honoring the 100 journalists and news executives who have changed the landscape of business news in the 20th century. Born in Albany, Ind., and raised in South Bend, Kilgore has been credited with being "the man who changed the Wall Street Journal from a small financial newspaper into the nation's only national daily." He was graduated from DePauw in 1929.
Two other DePauw alumni also are included among the top 100 Business News Luminaries of the Century. They are: Kenneth C. Hogate, a native of Danville, Ind., and a 1918 DePauw graduate, who served as managing editor of the Wall Street Journal and later president and chairman of the board of Dow Jones & Co.; and James B. Stewart Jr., a 1973 DePauw graduate, Pulitzer Prize-winning former Page One editor of the Wall Street Journal and author of the best-selling book
Den of Thieves about the insider trading scandal on Wall Street.
DePauw is one of only four universities to have three alumni represented on the list of the Top 100 Business News Luminaries of the Century. The other three universities are: Columbia, Cornell and Harvard.
Although Kilgore died in November 1967, hundreds of today's most influential reporters and editors still venerate him as the father of modern business journalism. It was Kilgore who reshaped the business news profession from a newsroom backwater of narrow interest to a staple of mainstream journalism, providing broad-based information of importance to Main Street as well as Wall Street.
"Among a legion of amazing talents and intellects who contributed mightily to the business news profession over the past century, Barney Kilgore had no equal," said Dean Rotbart, executive editor of TJFR Group's Business News Reporter, the media trade magazine that administered the award. "When we polled today's journalism leaders asking them to name the top business journalist of the century, Kilgore was first off of everyone's lips."
Kilgore's selection culminates a nine-month project to identify and honor the top 100 business journalists and news executives of the century. The project was coordinated by TJFR Group, a major publisher of periodicals and databases about business journalism. MasterCard International is the awards' lead sponsor.
"The business news luminaries are truly a diverse group, from pioneers of modern publishing and broadcasting to pioneers of the new frontier of the Internet. They played a significant role in chronicling every major business news event of the 1900s and in shaping public understanding of business and the economy," said Robert W. Selander, MasterCard's president and CEO.
All 100 TJFR Group/MasterCard International Business News Luminaries of the Century Award recipients were honored at a gala dinner in the Grand Ballroom of the Waldorf-Astoria Hotel in New York. An estimated 1,000 people shared in the celebration, which was hosted by PR Newswire and its chief executive officer, Ian Capps.
In addition to Kilgore, nine other journalists and news executives were singled out from the group of 100 as being among the top 10 business news luminaries of the century. They are:
Sylvia F. Porter, #2, author and nationally syndicated personal finance columnist;
Clarence W. Barron, #3, a crusading journalist who purchased Dow Jones & Company in 1902 and founded Barron's magazine in 1921;
Henry R. Luce, #4, founder of TIME and Fortune magazines;
Vermont C. Royster, #5, two-time Pulitzer Prize winning editor of the Wall Street Journal;
James W. Michaels, #6, who served as editor of Forbes and a journalism mentor for 37 years;
Ida M. Tarbell, #7, the early 20th century investigative reporter whose reporting led to the eventual legal breakup of Standard Oil;
Michael Bloomberg, #8, founder of the Bloomberg News Service and related news organizations;
Myron "Mike" Kandel, #9, a CNN business commentator for two decades and financial editor of three metropolitan newspapers; and
Carol Loomis, #10, Fortune magazine's widely admired writer and reporter.
Accepting the Business Journalist of the Century award on their father's behalf were Kilgore's three adult children, Kathryn, James and John. Kilgore, despite his lofty stature among his colleagues, was a soft-spoken, unassuming journalist and business executive who certainly would have shunned such personal aggrandizement.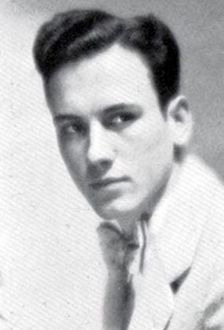 He liked to let his work do the talking and receive the attention. His career at Dow Jones was on the fast track from the time he joined the company at age 20, upon his graduation from DePauw University. By 1941, at the age of 32, he was managing editor of the paper and became president of the company in 1945. Kilgore brought depth and perspective to the Journal's reporting, revamping its front page and redefining business news to include broad coverage of all issues important to well-informed readers, whether or not directly about business. Based upon his recognition of the importance of new technologies, Kilgore pushed the Journal to use satellite transmission to print newspapers at multiple sites simultaneously. The result was the first truly national newspaper. When Kilgore became president of Dow Jones, the Journal's circulation stood at 33,000 and the entire company earned a mere $211,000. By 1966, when Kilgore became chairman of Dow Jones, the paper's circulation had skyrocketed to more than one million and annual profits had risen to more than $13 million.

[Download Video: "Bernard Kilgore Biography" - 9509kb].
The Kilgore family still supports the Bernard Kilgore Memorial Fund, which supports DePauw's student newspaper, The DePauw. Mr. Kilgore was also a former DePauw board of trustees member and was at the time of his death in 1967 head of that board. Mr. Kilgore's group of Princeton, N.J. newspapers, still owned by his family, produced a tab commemorating the event, published the story locally and posted it on a web site, PacketOnline.com.
Back