Rituals and Traditions Form Unusual Art Exhibition at DePauw
February 22, 2000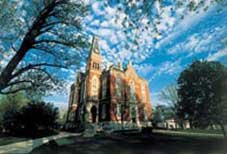 February 22, 2000, Greencastle, Ind. - In 1998, internationally recognized sculptor Denise Ward-Brown was in Ghana, West Africa, researching architectural patterns, textures and rituals as a Fulbright Scholar. Her resulting series of art, "LIBATION: Sculpture by Denise Ward-Brown," is featured at DePauw University's Emison Art Center Gallery from March 1-24. The powerful exhibition includes 18 assembled sculptures and 28 works on paper.
Ward-Brown will discuss her work at the gallery's opening reception on Wednesday, March 1, from 4-6 p.m. She will also present a slide talk at "The Hump," from 12:30-1:30 p.m. in the Union Building, Room 110A. All events are free and open to the public. The exhibition is sponsored by the Office of Multicultural Affairs, Public Occasions Committee, and Watt Bros. Pharmacy in Springfield, Ill.
Ward-Brown's colorful, layered sculptures are composed of remnants from the home or from nature. The objects in her sculptures are familiar to us: a ruler, a toaster, a rose petal, a clawfoot table, a serving bowl or a folded piece of paper. Her art beckons us to recognize how these objects were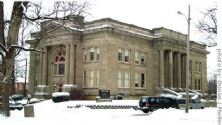 combined -- the actions, the rituals behind the making -- and see how the materials and colors suggest metaphors, connections and new forms.
The daily repetitions that go into the making of Ward-Brown's art from layering red plastic over her grandmother's chair, or pouring varnish over a stream of antique buttons, reference rituals and traditions. By looking at her work, viewers may imagine the motions of Ward-Brown's hand making the art: pouring plastic or varnish. A libation is the pouring of a liquid offering as a religious and secular ritual. These rituals and traditions are termed "four-dimensional patterns" by Ward-Brown. She creates new objects made through daily rituals, but they still are tied to the past.
The Libation Series developed from Ward-Brown's 1993-1995 series, "Heading East and East," which was exhibited at the St. Louis Art Museum. "Heading East and East" was a memorial to the millions who died on slave trade ships bound from Africa to the Western Hemisphere, called the Middle Passage. Through that series and the current Libation Series, Ward-Brown succeeds in remembering and respecting her ancestors.
Ward-Brown is an associate professor of art and the area coordinator for sculpture at Washington University in St. Louis. Her art work was included in the Smithsonian Institution's traveling exhibition, "Seeing Jazz," from 1997-1999. In 1998, she participated in the Smithsonian's Center for African-American History & Culture's exhibition, "Resonant Forms." Since completing her Master of Fine Arts at Howard University in 1984, she has had more than 10 solo exhibitions. In 1986, she received the Washington, D.C., mayor's "Outstanding Emerging Artist" award. She was awarded a 1994 Mid-America National Endowment for the Arts grant, as well as a 1998 Fulbright Scholar Award to Ghana.
The Emison Art Center Gallery is located at 309 S. College Avenue, Greencastle. Gallery hours are Monday-Friday, 9 a.m. - 4 p.m.; Saturday, 10 a.m. - 4 p.m.; Sunday, 1-5 p.m. Call (765)658-4336 for more information or (765) 658-4345 to schedule tours.
Back