Emison Art Center Hosts First Indiana Exhibit of Bryan D. Ritchie
January 27, 2000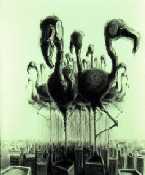 January 27, 2000, Greencastle, Ind. - Bryan D. Ritchie brings his well-crafted, colorful and inventive prints and drawings to Indiana for the first time in an exhibition titled "Works on Paper by Bryan D. Ritchie" from Feb. 2-23 at DePauw University's Emison Art Center Gallery. The exhibition of 16 works includes lithographs, monotypes and charcoal drawings. The works are from two series, "Remnants" and "Fabricated Realities," that explore and exaggerate how people perceive an object's function.
Ritchie will present a gallery talk at a reception on Wednesday, Feb. 9, from 4-6 p.m. On Thursday, Feb. 10, he will give a slide talk from 4-4:50 p.m. in Asbury Hall, Room 111. All events are free and open to the public.
Viewers will find the images in Ritchie's works somewhat ordinary like a room in a house, a skyscraper, or even a light bulb but what Ritchie creates with the ordinary brings new meaning to those familiar objects. Through his strong sense of design, he plays with scale, texture and color to elevate the objects and invent a kind of story. Much like the drawings of well-known sculptor Claes Oldenburg, Ritchie's drawings show a sense of playfulness. For example, Ritchie draws
flamingos towering over buildings or adds wings to the light bulbs.
Ritchie resides in Menomonie, Wis., and he teaches printmaking at the University of Wisconsin in Stout. He has been an instructor of printmaking, drawing, painting and design at the Colorado Institute of Art, Metropolitan State College of Denver and the University of Colorado at Boulder. Ritchie has exhibited widely in Colorado, including a 1998 solo exhibition of his "Remnants" series at the Andrew J. Macky Gallery in Boulder. Also, he exhibited in Bermuda through a research grant from The Bermuda Society of the Arts.
The Emison Art Center is located at 309 S. College Avenue, Greencastle. Gallery hours are Monday-Friday, 9 a.m. - 4 p.m.; Saturday, 10 a.m. - 4 p.m.; Sunday, 1-5 p.m. Call (765) 658-4336 for more information or (765) 658-4345 to schedule tours.
Back