Three DePauw Professors Awarded NEH Grants for Scholarly Projects
December 12, 1999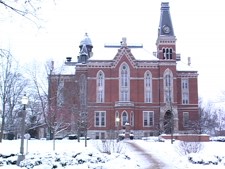 December 12, 1999, Greencastle, Ind. - DePauw University is one of only four institutions to have more than one faculty member selected by the National Endowment for the Humanities to receive Fellowships for College Teachers and Independent Scholars for the 2000-01 academic year. Three DePauw professors are among the 86 fellowship recipients nationally named after the NEH reviewed 714 applications. Among the recipients, four are from the University of Notre Dame, and Smith College and Tufts University each have two. Istvan Csicsery-Ronay Jr., professor of English; John Dittmer, professor of history; and Eric K. Silverman, associate professor of anthropology, are the DePauw faculty members awarded fellowships. The awards carry a $30,000 stipend for the 12-month period beginning June 1, 2000.
"Having three faculty members selected for the NEH fellowships certainly speaks to the caliber of scholarly work being pursued by DePauw professors," said Neal B. Abraham, DePauw vice president for academic affairs. "The work by Istvan Csicsery-Ronay, John Dittmer and Eric Silverman enriches the academic community at DePauw and, significantly, strengthens their teaching of our students."
Through his NEH fellowship, Csicsery-Ronay will develop a book-length project, titled "The Seven Beauties of Science Fiction," in which he intends to express the state of the art of science fiction criticism. His plan is to explore seven major features that distinguish science fiction from other literary and cinema/video genres.
The Good Doctors: A History of the Medical Committee for Human Rights is the title of the book that Dittmer plans to write. It is a history of the Medical Committee for Human Rights that was formed in New York City to send physicians and other health care professionals to Mississippi following the disappearance of three civil rights workers in Philadelphia, Miss., in 1964.
Silverman's project will focus on "Jewish Circumcision in Myth, Folklore, and Ritual: Perspectives from Anthropology and Psychoanalysis." He plans to write a book that interprets Jewish circumcision in the context of a wider Biblical and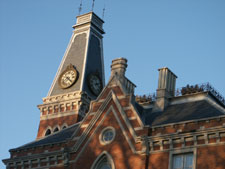 Judaic symbolism of the body and gender.
The National Endowment for the Humanities is an independent federal agency, and it is the largest funder of humanities programs in the United States. The NEH's mission is to enrich American cultural life by promoting knowledge of human history, thought and culture throughout the nation. It focuses on providing for high-quality humanities projects in four funding areas: preserving and providing access to cultural resources, education, research and public programs.
Back