Prof. Gary Lemon Named to Direct Management Fellows Program
December 11, 1999
December 11, 1999, Greencastle, Ind. - A DePauw University professor recognized as an outstanding teacher and having corporate experience has been appointed director of The Robert C. McDermond Center for Management and Entrepreneurship and director of the Management Fellows Program at DePauw, University officials announced. Gary D. Lemon, a professor of economics and management who joined the DePauw faculty in 1976, will assume his new duties on July 1. Because of his commitment to students and the field of economics, Lemon will continue to teach one course each semester, in addition to supervising internships for Management Fellows.
"We are pleased that one of our finest teachers, and someone who has worked with the Management Fellows Program from its inception, will assume leadership for one of the most vibrant and distinctive programs at DePauw," said Neal B. Abraham, vice president for academic affairs. Abraham also noted that Lemon has served on the academic advisory board for the Management Fellows Program since 1987.
Established as an honors program in 1980, the Management Fellows Program is open to students in any major who are interested in pursuing careers in the for-profit and not-for-profit sectors. In addition to completing coursework and a major in the liberal arts, Management Fellows complete a semester-long, paid internship in top national and international settings. Management Fellows graduates have gone on to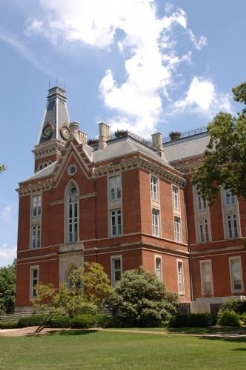 distinguished careers in top companies and organizations throughout the country and world. They also have been accepted for graduate and professional study at some of the nation's most prestigious institutions, including Harvard, Stanford, Northwestern, University of Chicago, University of Pennsylvania, Dartmouth, University of Michigan and M.I.T.
The McDermond Center, located in the new wing of the recently renovated Memorial Student Union Building, sponsors a speaker series that brings top corporate and not-for-profit leaders to campus to interact with students, an executive-in-residence program, a club for students interested in entrepreneurship, field trips to corporate sites in Indianapolis and Chicago, an annual competition for student-designed business plans and other activities. The McDermond Center is supported by an external advisory board, consisting of alumni who are leaders in business, along with alumni volunteers in major cities.
Chairman of the external advisory board is David B. Becker, a 1975 DePauw graduate, founder and chairman of the First Internet Bank of Indiana, based in Indianapolis. Becker endorsed Lemon's appointment as bringing to the job the right mix of industrial experience and the academic high standards for which the Management Fellows Program has become known. He encouraged Lemon to work to extend the outreach of the entrepreneurship programs of the McDermond Center to serve all students at DePauw.
Students have widely praised Lemon for his teaching ability. The Academic Council named him an Outstanding Professor in a vote by all students, and various living units have voted him a Favorite Professor. Mortar Board selected him as the Favorite Professor in 1993 and invited him to deliver the "Last Lecture" in 1995. At DePauw, Lemon has taught a wide range of courses, including Introduction to Economics and Financial Accounting, Urban Economics, Intermediate Microeconomics, Business Policy, Public Finance, and Quantitative Analysis for Economics and Management.
For
several years, he has led a Winter Term study trip to explore coral reef ecology at Cozumel in the Caribbean. He has participated in the first-year student advising program for many years, and he developed one of the University's new seminars for first-year students offered in the fall 1999 semester.
Lemon began teaching economics at DePauw after working in the Financial Management Program of General Electric Co. He received a bachelor's degree in economics and mathematics and master's and doctoral degrees in economics from the University of Kansas.
Lemon succeeds Mary P. English, who announced in the fall her plans to return to her role as an associate professor of economics and management at DePauw after completing four years as director of the McDermond Center and Management Fellows Program in June 2000. Under her leadership, DePauw completed a major fund-raising effort to support the McDermond Center and to pay for the construction of the program's new building. Internships were broadened to include placements in Europe and in not-for-profit organizations. The speakers program and the executive-in-residence program were strengthened, and the percentage of the entering Management Fellows who completed the rigorous honors program was significantly increased.
Back