Walt Disney's Judson C. Green '74 to Give Commencement Address
May 10, 1999

May 10, 1999, Greencastle, Ind. - Judson C. Green, a 1974 DePauw University graduate and chairman of Walt Disney Attractions, Inc., will give the address when DePauw awards 478 bachelor's degrees in its 160th Commencement on Saturday, May 22. DePauw's commencement is scheduled at 1 p.m. at the traditional location, the lawn of the East College building. In case of rain, the ceremony will be moved into the Lilly Physical Education and Recreation Center.
The university also will present honorary degrees to four of its distinguished alumni. The recipients and their degrees are:
Richard W. Peck, a 1956 DePauw graduate and an award-winning author of books for young adults - Doctor of Letters degree;
Mary R. Roberts, a 1948 DePauw graduate who served more than 40 years as an officer of foundations in Illinois - Doctor of Public Service degree;
Ian M. Rolland, a 1955 DePauw graduate and retired chairman and CEO of Lincoln National Corporation, Fort Wayne, Ind. - Doctor of Humane Letters degree;
W. Allan Walker, a 1959 DePauw graduate who is the Conrad Taff Professor of Pediatrics and Nutrition at Harvard University Medical School - Doctor of Science degree.
Commencement speaker Green is chairman of Walt Disney Attractions, the theme park and resort segment of The Walt Disney Company. Walt Disney Attractions includes the Disneyland Resort, Walt Disney World Resort, Tokyo Disney Resort and Disneyland Paris as well as Disney Cruise Line, Disney Regional Entertainment and Walt Disney Imagineering. In his previous role as president of Walt Disney Attractions from 1991 through 1998, Green led the most ambitious decade of growth ever experienced in the theme park and resort industry. Green serves on the boards of several national tourism and wildlife conservation organizations and is active in numerous community efforts. He is the 1996 recipient of the National Distinguished Eagle Scout Award from the Boy Scouts of America. An accomplished jazz pianist, Green has accompanied many entertainment personalities throughout his career. After receiving a bachelor's degree in economics from DePauw, Green earned an M.B.A. from the University of Chicago. He serves on DePauw's Board of Trustees and the Board of Directors of The Robert C. McDermond
Center for Management & Entrepreneurship at DePauw.
Peck is a well-known writer of books for young adults and the recipient of several literary awards. Peck's novel of short stories, A Long Way from Chicago, has been awarded the American Library Association's John Newberry silver medal, which he will receive at the ALA national convention on June 27, 1999, in New Orleans. Peck's book, Strays Like Us, was named among the Best Books for Young Adults in 1998. In 1990 Peck received the Margaret A. Edwards Award from the American Library Association and School Library Journal in recognition of the body of his work as a writer for young adults. Four of his novels were made into films.
Roberts received a Bachelor of Arts degree in economics from DePauw in 1948. For more than 30 years, Roberts served as vice president of the R.F. Foundation, which provided grants for projects in education, health care, hospitals and human services. She then served 10 years as president of the Mary R. Roberts Foundation. She and her husband, Charles C. Roberts, also Class of 1948, used the assets of the latter foundation to create the DeKalb County Community Foundation, located in DeKalb, Ill. She has been a member of the board of the Northern Illinois University Foundation for 25 years. Very active in her community, Roberts was a member of the DeKalb Library board for 12 years and has worked to promote day care. Roberts served DePauw as a member of the Board of Trustees for 16 years.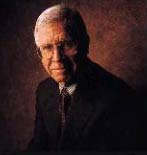 Rolland joined Lincoln National Life in his native Fort Wayne, Ind., in 1956 and began a career that spanned 42 years at Lincoln National Corporation, a Fortune 500 financial services organization. Rolland retired on June 30, 1998, after serving the last 21 years as chairman and CEO of the company. Rolland sits on the boards of directors of prominent corporations, including Wells Fargo & Company, NIPSCO Industries Inc., Bright Horizons Family Solutions and Tokheim Corporation. He is past chairman of the American Council of Life Insurance and the International Insurance Society as well as past president of the Society of Actuaries.
Walker earned his medical degree at the Washington University School of Medicine and began a distinguished career in pediatric medicine in 1963. Currently, he serves as Chief of the Combined Program in Pediatric Gastroenterology and Nutrition at Harvard Medical School/Massachusetts General Hospital and The Children's Hospital. His many honors include the Shwachman Award for outstanding achievement in pediatric gastroenterology in 1995 and the Fogarty International Fellowship at the Pasteur Institut in 1992. Walker has served on the editorial board of numerous journals.
Back