20 Years of C-SPAN, ESPN and USA Network Topic of Panel May 6
April 28, 1999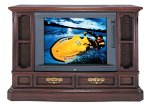 April 28, 1999, Greencastle, Ind. - A cable TV channel offering only sports? A channel devoted to gavel-to-gavel coverage of Congress? A general-interest network featuring reruns of syndicated programming? Twenty years ago, most broadcast executives scoffed at the possibility of success for such programming. Today, cable television dominates broadcast TV. The three men with the foresight not only to establish the cable TV channels mentioned above but also to make them highly successful will come together for a panel discussion at DePauw University in recognition of the 20th anniversary of the three major cable television networks.
Brian Lamb, founder, chairman and CEO of C-SPAN; Bill Rasmussen, a 1954 DePauw graduate and founder of ESPN; and Robert Rosencrans, co-founder of USA Network, will speak on Thursday, May 6 at 8 p.m. in DePauw's Center for Contemporary Media, Watson Forum. Sponsored by the Center for Contemporary Media, the event is open and free to the public.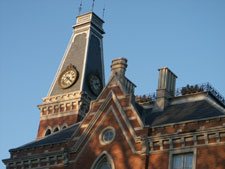 The panel is titled "What Hath They Wrought?" It will be moderated by Tom Wheeler, former director of the National Cable Television Association and current president of the Cellular Telephone Industry Association.
The distinguished group of panelists will discuss what was going on behind the scenes 20 years ago as well as the changes in technology that made possible the cable TV channels and their distribution throughout the nation. They also will talk about the challenges and serendipitous events involved in the revitalization of the cable industry. In addition, they will cover what the future may hold for cable television.
Lamb (below left) organized C-SPAN, the Cable-Satellite Public Affairs Network, as a not-for-profit company and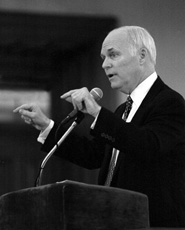 built one of Washington, DC's first satellite uplinks in March 1979. With cable industry support, C-SPAN grew rapidly from a part-time video programming service. Today's C-SPAN employs 230 people and offers two 24-hour video channels, C-SPAN and C-SPAN 2, plus two audio networks. More than 71 million households can tune in the C-SPAN network.
Rasmussen (pictured at right) was recognized in 1994 by Sports Illustrated as one of 40 individuals who had the greatest impact on the world of sports over the previous 40 years. "As founder of ESPN, I saw a company and an entire industry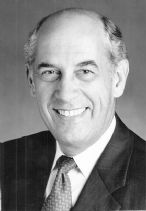 explode on the American television scene with breathtaking speed. Its impact forever changed the way Americans watch television," he said. Subsequently, he worked as a consultant with the Big Ten Athletic Conference to negotiate major network television packages. He is still involved with revolutionary ideas while serving as chairman and CEO of IntelliNet, Inc., an advanced home automation system.
Rosencrans founded Columbia Cable Systems in 1962, and Columbia made an initial capital contribution to create C-SPAN. He served as the first chairman of C-SPAN from 1977-79 and continues to serve on the board as chairman emeritus. Rosencrans installed the first satellite Earth station in the cable industry to receive an HBO transmission on Sept. 30, 1975. In 1977 he co-founded Madison Square Garden Sports Network, which was renamed USA Network in 1980, the first satellite-fed proprietary basic cable network supported by cable system fees and national advertising. He negotiated the first national contracts with Major League Baseball, National Basketball Association and National Hockey League.
Back