National Association of Broadcasters President Edward Fritts to Speak
April 21, 1999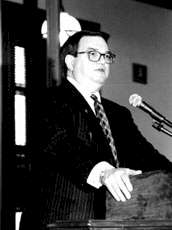 April 21, 1999, Greencastle, Ind. - As part of DePauw University's 50th anniversary celebration of the founding of WGRE, the first 10-watt educational radio station licensed by the Federal Communication Commission, Edward O. Fritts, president and CEO of the National Association of Broadcasters, will give a convocation on Wednesday, April 28. "Don't Touch That Dial! Mass Media in the New Millennium" is the title of Fritts' speech at 10 a.m. in East College, Meharry Hall. Sponsored by WGRE radio and the Center for Contemporary Media, it is open and free to the public.
During his 17 years as president and CEO of the National Association of Broadcasters, located in Washington, D.C., Fritts has grown the NAB into one of the most respected and effective lobbying organizations in the country. A former station-group owner and NAB board member, Fritts is known as a lobbyist willing to "go to bat" for broadcasters.
Fritts also promotes the public service commitments of radio and television stations by actively seeking opportunities for station community efforts while serving on the boards of The Ad Council, National Commission Against Drunk Driving, Centers for Disease Control's Business Responds to AIDS program, and the U.S. Chamber of Commerce.
An advocate of NAB's expanding international involvement, Fritts has served as vice chairman of the State Department's International Media Fund, assisting European nations in establishing private broadcast systems. He was vice chairman of President Reagan's White House Private Sector Initiatives Board. The Media Institute recently awarded Fritts its prestigious American Horizon Award in recognition of his leadership in promoting the vitality and independence of American media and communications.
WGRE, an FM station, now broadcasts at 1,000 watts. More than 200 DePauw students work at WGRE each semester in order to provide a broadcast service that includes local, state and national news; a wide variety of music; live coverage of Tiger sports; talk and interview programs; educational programs; and promotional activities. The Princeton Review ranks WGRE the No. 5 college radio station in the country, and WGRE student journalists consistently win awards for their work in competitions with commercial stations. Three times in the last six years, WGRE was the only college radio station chosen as a finalist for the National Association of Broadcasters Crystal Award, which is awarded to radio stations that make outstanding community service efforts.
Back