Dinosaur Fossil Hunter Jack Horner to Speak at DePauw
April 7, 1999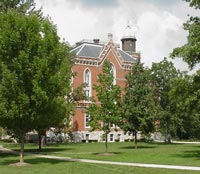 April 7, 1999, Greencastle, Ind. - Dinosaur eggs, nests and fossils are just a few of things that will be brought to life through the eyes of dinosaur fossil hunter John "Jack" Horner when he speaks at DePauw University on Wednesday, April 14.
Horner is one of the most qualified experts to discuss dinosaur life. He discovered the first dinosaur eggs in the Western Hemisphere, the first evidence of dinosaur colonial nesting, the first evidence of parental care among dinosaurs, and the first dinosaur embryos. His discoveries have had a profound effect on the understanding of dinosaurs, dinosaur biology and their social behavior. He served as technical adviser to Steven Spielberg for the movies Jurassic Park and its sequel, The Lost World.
At DePauw Horner will give a convocation titled "Dinosaur Behavior" at 7:30 p.m. in East College, Meharry Hall. It is open and free to the public. In the afternoon, Horner will talk with students at Greencastle Middle School from 1:30-3 p.m. and meet with Putnam County science teachers at 3:30 p.m.
Horner's convocation is sponsored by the Science Research Fellows Program and biological sciences department at DePauw. His visits with middle school students and local
science teachers is coordinated by DePauw's education department.
Horner serves as curator of paleontology in the Museum of the Rockies at Montana State University. He has had a remarkably successful scientific career excavating and examining fossils, and his work has yielded insights into many of the central controversies about dinosaur biology and behavior, such as their relationship to modern birds, causes of their extinction and whether they were warm blooded.
He is co-author of several books, including Digging Dinosaurs, Dinosaur Lives: Unearthing an Evolutionary Saga and Digging Up Tyrannosaurus Rex, a children's book. Horner's scientific findings have been published in many of the prestigious science journals. His exploits with dinosaur fossils have been featured in numerous national magazines, including Time, Newsweek and National Geographic.
Although he does not have a formal college degree, he was awarded an Honorary Doctor of Science degree from the University of Montana in 1986. He also was awarded a MacArthur Fellowship.
Back