Youth Survey Shows Needs in Putnam County; Nominations Sought for Youth Leadership Awards
April 1, 1999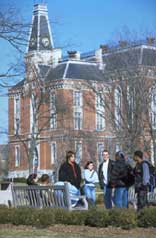 April 1, 1999, Greencastle, Ind. - Three out of four Putnam County parents believe there is a need for a community center for their children and nearly half of parents and children feel there are not sufficient after-school programmed activities. Those are two of the results of a survey of Putnam County youth during the latter part of 1998 and county parents during the early part of 1999. The surveys were conducted by the DePauw University Community Research Project through the Grover L. Hartman Center for Civic Education and Leadership.
The surveys also indicated that 61 percent of parents believe there is inadequate transportation available to and from after-school activities in Putnam County, 55 percent of parents say they believe there are insufficient opportunities for their children to do community service locally, and 28 percent believe their child needs a mentor or "big brother" or "big sister." Also according to the survey, 72 percent of Putnam County children do not participate in community service locally, and 57 percent of youth do not participate in structured summer activities.
"These statistics reveal distressing realities about the quality of life for our
children in Putnam County," said Stuart C. Lord, executive director the Hartman Center. "That's why the 1999 'Safe Place' Summit for Putnam County Youth on April 17 will focus on responding to the needs or our youth by increasing programming for children and adolescents in Putnam County as well as other efforts to improve the quality of life for our children."
Titled "Respond to the Needs of Our Children," the second annual Summit for Putnam County Youth is scheduled on Saturday, April 17 at DePauw University. During the summit, adult and youth members of the community will plan and implement solutions designed to improve the conditions for children. Participants will focus on five key areas of need that were identified at last year's summit.
The "Safe Place" Summit for Putnam County's Youth is a direct, community-based response to the President's Summit for America's Future held in 1997 in Philadelphia, for which Lord was the executive director. It is conducted in partnership with the national initiative headed by Gen. Powell, America's Promise-The Alliance for Youth, which is designed to equip young people with five basic tools and resources that create opportunities for success: (1) an ongoing relationship with a caring adult-mentor, tutor, coach; (2) safe places and structured activities during non-school hours; (3) a healthy start; (4) a marketable skill through effective education; and (5) an opportunity to give back through community service.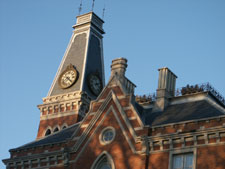 "Findings from the survey of students in Putnam County high schools and middle schools show that these five fundamental resources are lacking in the lives of many of our children," Lord said. "It will take many members of the community working together to develop effective solutions for these needs. I encourage everyone to participate."
Cloverdale, Greencastle, North Putnam and South Putnam school systems are all participating. There also will be delegates from churches, businesses, civic organizations, city and county government, and DePauw. Community members who would like to participate in the summit should call the Hartman Center at (765) 658-4870.
Back