Prof. Craig Paré Receives Award for Exemplary Teaching
March 23, 1999
March 23, 1999, Greencastle, Ind. - Craig T. Paré, assistant professor of music and director of University bands, is the recipient of an Exemplary Teaching Award from the General Board of Higher Education Ministry of the United Methodist Church. The award is intended to recognize outstanding teachers at Methodist-related institutions of higher education. Along with the award, Paré receives a $1,000 stipend.
Paré, who is known on campus for his infectious enthusiasm, has worked to strengthen the instrumental music education program at DePauw, and as a result the number of music education majors has grown. Under his leadership, the University Band made its first recording of its music on compact disk, an unusual accomplishment for a liberal arts university. The band has now made two CDs of music. With Paré's support, several DePauw students have won top state and national music awards.
"Professor Paré is enthusiastic and motivated. When he observes me student teaching, probably the best suggestion he's given me is to be really enthusiastic like him. He models that for his students," said Courtney Keeth, a senior majoring in instrumental music education. She has taken several courses from Paré and is student teaching this spring semester at Plainfield, Ind., middle and high school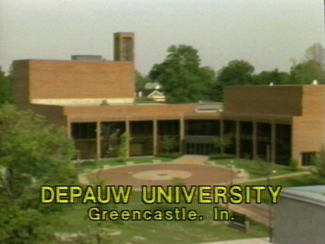 Keeth also indicated that Paré devotes a lot of his time to working individually with students. He encourages them and is always very excited about their accomplishments, she said.
An active performer himself, Paré sponsors student trips to numerous off-campus concerts and clinics.
Paré joined the DePauw School of Music faculty in 1993, and he teaches courses in music theory, music education, conducting, and techniques in percussion, string and brass. He received a Bachelor of Music degree in music education from Barrington College, Master of Music in percussion performance from Florida State University and Doctor of Musical Arts in wind conducting from the University of Cincinnati College-Conservatory of Music.
Back