Media Critic George Gerbner & Playwright Tony Kushner to Speak at Undergraduate Communication Honors Conference
March 1, 1999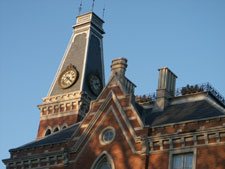 March 1, 1999, Greencastle, Ind. - A long-time media critic and a controversial playwright will be the guest speakers for the 25th Undergraduate Communication Honors Conference at DePauw University on March 4-5.
George Gerbner, Bell Atlantic Professor of Telecommunication at Temple University, dean emeritus of the Annenberg School of Communication at the University of Pennsylvania, and one of the foremost communication scholars, will give a convocation on Thursday, March 4 at 7:30 p.m. in the Memorial Student Union Building, ballroom.
Tony Kushner, controversial author of Angels in America: A Gay Fantasia on National Themes, will join two DePauw faculty members in a conversation on Friday, March 5 at 11 a.m. in the Performing Arts Center, Thompson Recital Hall. The DePauw faculty members talking with Kushner will be Kim S. Conner, assistant professor, and Steven Timm, associate professor, in the Department of Communication Arts and Sciences. There also will be a question-and-answer session with Kushner at 2 p.m. in the Center for Contemporary Media, Watson Forum. All events are open and free to the public.
DePauw's annual National Undergraduate Communication Honors Conference is designed to encourage undergraduate student scholarship, and students from across the nation submit papers representing individual research. They have the opportunity to discuss their work with visiting scholars, who this year are Robert K. Avery, University of Utah; Samuel L. Becker, University of Iowa; Patti P. Gillespie, University of Maryland; and Mark L. Knapp, University of Texas. Coordinating the conference is Kent E. Menzel, DePauw associate professor of communication arts and sciences.
DePauw was one of the first universities to emphasize the importance of undergraduate research by establishing the annual conference in 1974, Menzel said.
Gerbner served as dean of the Annenberg School for Communication for 30 years, and he established there the Cultural Indicators Project, the most sustained effort yet to analyze scientifically the impact of television on society and the lives of its citizens. In 1996 he helped launch the Cultural Environment Movement, a broad-based coalition of citizens, scholars, parents, activists, and media producers and artists, to focus discussion on how the means of storytelling have drifted out of democratic control.
Kushner's seven-hour, two-part, Broadway production of Angels in America: A Gay Fantasia on National Themes is a masterful epic, which has received a Pulitzer Prize, two Tony Awards, two Drama Desk Awards and numerous other awards. Also the author of several other plays, Kushner intends his plays to be part of a greater political movement and deals with the issue of moral responsibility during politically repressive times. The gay, Jewish, socialist was raised in Louisiana and educated at Columbia University and New York University. He enjoys speaking about weighty philosophical and political topics and timeless matters such as faith, death and life.
Back