Latin American Affairs Scholar and Author Here March 2
February 25, 1999
February 25, 1999, Greencastle, Ind. - Michele Wucker, who has covered Latin American affairs as a journalist and is the author of a new book on Haiti and the Dominican Republic, will give the Caribbean Studies Talk at DePauw University on Tuesday, March 2 at 4 p.m. in the Center for Contemporary Media, Watson Forum. It is open and free to the public.
Wucker's book, Why the Cocks Fight: Dominicans, Haitians, and the Struggle for Hispaniola, will be published on March 1 by Hill and Wang. In the book, Wucker describes a richly textured social history of efforts by the two countries to control the island of Hispaniola. She discusses the roles of geography, economy and politics and offers reasons why one-eighth of the island population has emigrated to the United States in the last 20 years.
After growing up in Texas and Wisconsin, Wucker first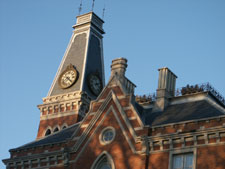 traveled to Hispaniola in 1988. Since then, she has covered political developments and immigration issues for a number of publications, including the Boston Globe, Christian Science Monitor, Newsday, Newsweek and World Policy Journal. Wucker received degrees in international relations from Rice University and Columbia University. She lives in New York City.
Back