Emison Art Center Features Indiana Debut of 'Romancing the Image'
February 1, 1999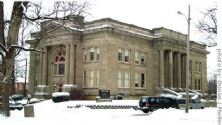 February 1, 1999, Greencastle, Ind. - One of the top Ohio art shows of the 1998 season, titled "Romancing the Image: Recent Works by Richard Petry and Dennison W. Griffith," will receive its Indiana debut at DePauw University's Emison Art Center beginning Wednesday, February 3, and continuing through March 3. It is free and open to the public.
In the exhibit, Petry, a photographer, and Griffith, a painter, show the blurring of the boundaries between painting and photography in contemporary times.
From mid-1997 to mid-1998, Petry and Griffith created an independent group of works that explore the common ground they share as artists. They show how two artists whose media are vastly different can pursue thought processes that are quite similar. The collection of works features computer-fabricated photographs by Petry and paintings derived from photographs by Griffith.
Both artists are affected by the media, cinema in particular, and they share a passion for creating objects. Griffith's paintings utilize Polaroid photographs of family and friends and photographs from classic films and news broadcasts. Petry creates images by placing objects on a digital scanner and assembling the images into compositions on his computer. The final images are enlarged and painted on.
The artists have lived and worked in Columbus, Ohio, for the past 20 years and have shared studio
space from time to time.
Petry is a professor and chair of the photography and digital imaging department at The Columbus College of Art and Design. He earned a B.A. degree in philosophy from the University of Akron in 1977 and a Master of Fine Arts in photography from Tyler School of Art in 1980.
Griffith is president of the Columbus College of Art and Design and former deputy director of the Columbus Museum of Art. He has received several artist fellowships, including an Arts Midwest/NEA Regional Fellowship in 1990-91. Griffith earned a B.F.A. from Ohio Wesleyan University in 1974 and M.F.A. from Ohio State University in 1994.
On Wednesday, March 3, Petry will present a slide lecture about his work in Asbury Hall, room 111, from 10-11 a.m. A reception for the artist is planned from 4-6 p.m. in the Emison Art Center Gallery. He also will present a a gallery talk at 4:15 p.m. during the reception.
The Emison Art Center Gallery is located at 309 S. College Ave., Greencastle. Hours are: Monday-Friday, 9 a.m.-4 p.m.; Saturday, 10 a.m.-4 p.m.; Sunday 1-5 p.m. Call (765) 658-4336 for more information.
Back