Stuart Rothenberg to Discuss 'Post Monica Politics'
November 12, 1998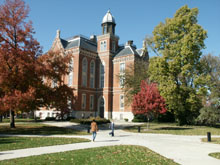 November 12, 1998, Greencastle, Ind. - What can we expect of the 106th Congress and the political race for the year 2000? "Post Monica Politics" will be discussed at DePauw University on Tuesday, Nov. 17, by Stuart Rothenberg, editor and publisher of the Rothenberg Political Report, analyst for CNN, regular contributor to Meet the Press and the Today Show, and columnist for Roll Call. Sponsored by DePauw's Center for Contemporary Media, Rothenberg's speech is scheduled at 7:30 p.m. in the Center's Watson Forum. It is open and free to the public.
The Rothenberg Political Report is a Washington-based biweekly newsletter that reports on and analyzes U.S. House, Senate and gubernatorial elections, presidential politics and current political developments.
Currently an analyst for CNN, Rothenberg was an on-camera election night analyst for the cable network in both 1994 and 1996. Also during 1995-96, he served as an analyst for the Voice of America. He was CBS Radio's State of the Union analyst in 1998. Rothenberg writes a twice-a-week column for Roll Call, a Capitol Hill newspaper, and his op-eds have appeared in
the Wall Street Journal, Washington Post, Newsday and other major newspapers. He is a regular contributor to CNN/TIME's Internet site, AllPolitics.com. He also has appeared on This Week With David Brinkley, The McLaughlin Group and CNN's Inside Politics.
Rothenberg received a bachelor's degree from Colby College and a doctorate from the University of Connecticut. He has taught political science at Bucknell University and the Catholic University of America.
Back