Memorial Concert Scheduled in Honor of Longtime DePauw Music Professor Herman Berg
October 15, 1998

October 15, 1998, Greencastle, Ind. - Bruce Berg, violin, and Claude Cymerman, piano, will present a concert in memory of long-time DePauw University music professor Herman Berg on Saturday, Oct. 24 at 5 p.m. in the Performing Arts Center, Thompson Recital Hall. Robert W. Gingery, former minister of Gobin Memorial United Methodist Church in Greencastle and retired minister of Community Church of Sun City, Fla., will give opening remarks.
A reception will follow the concert in the Performing Arts Center, room 152W. Community residents and friends are invited to attend the concert and reception.
Herman Berg was born Aug. 1, 1911, in Holcomb, Kan., and died in Sun City, Fla., on Aug. 10, 1998. He received a Bachelor of Science degree in 1931 form Emporia Kansas State University, a Bachelor of Music in violin performance form Eastman School of Music in 1933 and a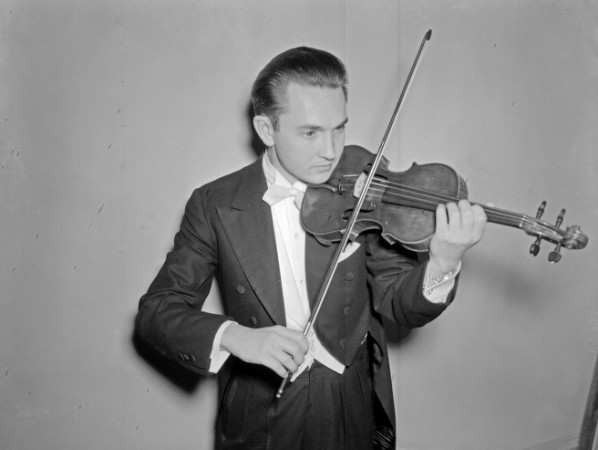 Master of Music in composition from DePauw in 1936. He also did graduate work at the Juilliard School of Music.
Berg taught at DePauw's School of Music from 1933 to 1977. He taught violin and viola lessons, orchestration and music education techniques courses and in 1933 began conducting the University Symphony Orchestra.
A frequent performer, Berg played with the Rochester Philharmonic Orchestra and was concertmaster of the Eastman orchestra while he studied in Rochester. During that time, he was soloist in the Brahms Violin Concerto which was broadcast by the National Broadcasting Company.
While at DePauw, Berg always gave the first faculty recital of the year and was a member of the Aeolian Trio. He also appeared as soloist with several orchestras, including: the Indianapolis Symphony, Indiana University Symphony, Terre Haute Symphony, University of Michigan Summer Symphony and Lafayette Symphony Orchestra.
Berg, who contributed articles on pedagogy to The Instrumentalist magazine and the American String Teachers magazine, was also a member of Pi Kappa Lamda, Kappa Delta Pi and Phi Mu Alpha (music honoraries);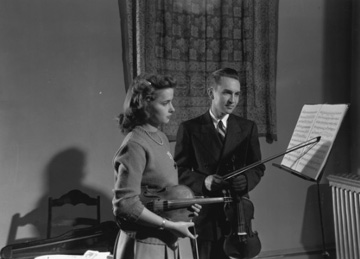 MENC; ASTA; MTNA; and the Federation of Music Clubs.
Following his retirement, Mr. and Mrs. Berg spent their winters in Florida and their summers teaching at the National Music Camp at Interlochen. They also taught in the Montgomery County String Program, sponsored by Wabash College. Herman Berg was honored in 1977 with a Distinguished Alumni Award from Emporia Kansas State University and received an honorary doctorate in music from Wabash College. (at left: Professor Berg works with a student, circa 1945)
Bruce Berg is a graduate of the Juilliard School, where he earned his Bachelor of Science, Master of Music and Doctor of Musical Arts degrees. In 1987 he was presented the Outstanding Teacher Award at Baylor University, where he is currently associate professor of violin. During the summer, he teaches and performs at the Killington Music Festival.
In addition to his numerous solo appearances, Berg performed as first violinist of the Madison and Ciompi String Quartets, New York Chamber Soloists, Berkshire Chamber Players and as concertmaster of the Music Aeterna, Manticore, and Waco
Symphony Orchestras. He also served as concertmaster and concerto soloist with Concert Royal, Bach Ensemble, Brandenburg Collegium, Ensemble for Early Music, and Banchertto Musicale. He has recorded for the Sheffield, Cambridge, Albany, Centaur and Musical Heritage record labels. (right photo: Herman Berg in 1973)
A native of France, Claude Cymerman graduated with highest honors for the Conservatoire National Superieur de Musique in Paris, studying piano, chamber music and harmony. He has won numerous awards, including the Grand Prize at the "Marguerite Long-Jacques Thibaud" International Competition in Paris and was recognized as "Outstanding Pianist" by the late French President Georges Pompidou in a special ceremony.
Cymerman has been a guest teacher in Paris, Strasbourg and Metz, and performs extensively throughout Europe and the United States. He has appeared as soloist with the Orchestre de I'lle de France, the radio France Orchestra, the Luxembourg and San Francisco Chamber Orchestra and the Indianapolis Symphony Orchestra. He has recorded on the Continuum Label with violinist Sherban Lupu. Cymerman's teachers include Gyorgy Sebok, Pierre Sancan, Lucette Descaues, Wilhelm Kempff, and Paul Badura-Skoda.
An active chamber musician, Cymerman is a member of the DePauw Trio. Cymerman was named the John C. and Lillian Siegesmund Professor of Music in 1996 in recognition of his outstanding teaching and distinguished artistic accomplishments.
Back