Encouraging Women Students in Science is Focus of Project Kaleidoscope Workshop at DePauw
October 15, 1998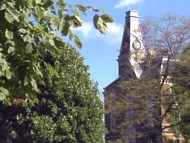 October 15, 1998, Greencastle, Ind. - Top faculty experts and scholars will address the issue of how to make the classroom more friendly for women students in science, mathematics, engineering and technology as part of a Project Kaleidoscope Workshop at DePauw University from October 30-November 1.
Most students are still taught science in a traditional science classroom experience, and that is not particularly effective in today's society. The Project Kaleidoscope workshop will focus on transforming the classroom environment for women and other under-represented groups, such as people of color, persons with disabilities and non-traditional students.
Developing ways to encourage all students to participate and succeed in mathematics and the various fields of science is the goal of the workshop titled "Women: An Under-Utilized Resource for Science, Mathematics, Engineering and Technology. The focus will be on how colleges and universities can strengthen the learning community at the undergraduate level.
In looking at the classroom and laboratory setting, the presenters will address how to: (1) create environments that encourage different styles of learning, (2) make classrooms and labs hospitable for women and all students, (3) use new teaching approaches to encourage women to pursue the study of science, and (4) link alternative pedagogies from related fields to improve the learning environment.
With regard to the wider campus community, the presenters will address how to: (1) create a friendly environment beyond the classroom, (2) develop supportive networks for women science students, (3) prepare faculty to serve as effective mentors to women students, (3) identify issues and strategies relevant to women students of color in the science and mathematics, (4) build institution-wide support for efforts to encourage women students in science, (5) address concerns about balancing professional and personal commitments, (6) recognize and promote a wide range of career paths for women students, and (7) broaden the definition of success.
Workshop leaders will include: Neal Abraham, DePauw University vice president for academic affairs and dean of faculty; Pete Chen, Spelman College assistant professor of chemistry; Yolanda Cruz, Oberlin College professor of biology; Raquel Diaz-Sprague, executive director of the Association of Women in Science at Ohio State University; Bridget Dibble, DePauw associate professor of chemistry; Catherine Didion, executive director of the Association for Women in Science; Jean Fuller-Stanley, Wellesley College associate professor of chemistry; Kathleen Jagger, clinical research director at Toledo Hospital and DePauw professor of microbiology and public health; Susan Johnson, associate dean of the Ball State University College of Arts and Sciences; Linda Mantel, Willamette University interim vice president for academic administration; Elizabeth McCormack, Bryn Mawr College assistant professor of physics; Catherine Middlecamp, University of Wisconsin-Madison director of Chemistry Learning Center; Mary Kertzman, DePauw associate professor of physics and astronomy; and Maria Tahamont, Rowan College of New Jersey assistant professor of biological sciences.
Also participating will be Jeanne Narum, national director of Project Kaleidoscope.
Back