Ferid Murad '58 Receives Nobel Prize in Medicine
October 12, 1998
October 12, 1998, Greencastle, Ind. - Ferid Murad, a 1958 graduate of DePauw University and a native of Whiting, Ind., is one of three researchers today being awarded the Nobel Prize in Medicine in recognition of their work for discovering that nitric oxide functions as a signal molecule in the cardiovascular system. This discovery is key to the development of Viagra, the anti-impotence drug, and has potential applications for the treatment of heart disease and other illnesses.
Murad, a pharmacologist at the University of Texas Health Science Center, shares the Nobel Prize with Robert F. Furchgott, a pharmacologist at the State University of New York-Brooklyn, and Louis J. Ignarro, a pharmacologist at the University of California-Los Angeles. They share the $978,000 prize.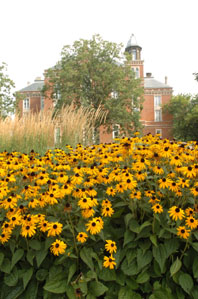 All three researchers worked on the properties of nitric oxide, a gas that transmits signals from one cell to another. Murad analyzed how nitroglycerin and related compounds act. In 1977 he discovered that those compounds release nitric oxide, which relaxes smooth muscle cells.
DePauw President Robert G. Bottoms said, "I join with the faculty of DePauw University in expressing pride that Ferid Murad, a DePauw alumnus, has received the Nobel Prize in medicine. DePauw alumni have been uncommonly successful across the spectrum of liberal arts and in the various fields of science, including medicine. The awarding of the Nobel Prize to Dr. Murad reflects not only upon his outstanding research career but also upon his undergraduate experience where, undoubtedly, his interest in science was nurtured in a positive way."
Several retired DePauw faculty members recall Murad as an outstanding individual. Forst Fuller, DePauw senior professor of zoology, collaborated with Murad on his senior research project and was his faculty adviser for four years. "He [Murad] did some research with me, and he was an excellent student. Everybody got along well with him."
Donald J. Cook, professor emeritus of chemistry, has heard from Murad a few times over the years. "He was a good student and a cheery fellow," Cook said. "About a year ago, he came back to campus, and I missed him. He sent me a letter to say he regretted not having been on campus for awhile."
Murad received a B.A. degree in pre-medical science from DePauw, where he was Phi Beta Kappa. He was a Rector Scholar and a member of Alpha Tau Omega fraternity. After graduating from DePauw, he earned M.D. and Ph.D. degrees at what is now Case Western Reserve University.
Previously, he was president and CEO of Molecular Geriatrics Corp. in Lake Bluff, Ill., a company he founded in 1993. Prior to that, he was vice president of Abbott Laboratories from 1989-92 and a professor of medicine and pharmacology at Stanford University.
Back