Teaching at DePauw to Benefit from $1 Million Gift from Martha Rieth
October 6, 1998
October 6, 1998, Greencastle, Ind. - To enrich DePauw University's tradition of outstanding teachers and teaching, Martha C. Rieth of Goshen, Ind., has committed $1 million to endow up to five Martha C. Rieth Distinguished Teaching Fellowships at the private, liberal arts University.
DePauw President Robert G. Bottoms said, "The Rieth Distinguished Teaching Fellowships will have a direct impact on teaching at DePauw by supporting professors in their efforts to develop new courses, incorporate new technology into the classroom and create other innovative programs to enhance learning for students. The Rieth Teaching Fellowships will help DePauw's very good faculty become even better."
Known for the quality of its teaching faculty, DePauw's reputation was reinforced in October 1997 when Dave A. Berque, DePauw associate professor of computer science, was named the United States
Professor of the Year by the Carnegie Foundation for the Advancement of Teaching.
"I'd like for DePauw to continue to lead the field in teaching and attract more good teachers," Rieth said. "This program will inspire current teachers and provide opportunities for them to grow and experiment with new ideas, and the fellowships may be an incentive to attract other good teachers to the university."
Martha Rieth first became involved with DePauw when her son, Blair A. "Andy" Rieth Jr. attended the university from 1976-80. She and her late husband, Blair A. Rieth Sr., grew to know DePauw well through their son's educational experience.
Andy Rieth was selected to Phi Beta Kappa, graduated magna cum laude with a major in economics and went on to earn a M.B.A. from Dartmouth University's Tuck Business School. He served in a variety of positions with Eli Lilly and Company, and he is currently director of national accounts for Guidant Corporation, which was formed when Lilly spun off its medical device business in 1994.
A former elementary school teacher, Martha Rieth remains strongly committed to and involved in education. In recognition of her efforts to promote education, DePauw awarded her an honorary doctorate in 1992. She also has served on the President's Advisory Board at Goshen College.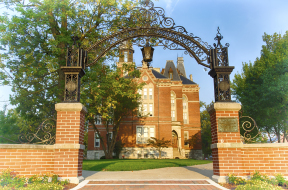 The Rieths have long-standing ties to DePauw. Blair Rieth Sr.'s mother graduated from Indiana Asbury University, the name under which DePauw was founded. His brother attended and his sister graduated from DePauw.
Founded in 1837, DePauw University in Greencastle, Ind., is a selective, coeducational, liberal arts university with nationally recognized academic programs. DePauw guarantees graduation in four years for students in 40 standard programs, or the university will waive tuition and fees for any subsequent course work necessary for graduation. Fortune magazine in 1990 ranked DePauw 11th among all colleges and universities in the nation in terms of the likelihood that its graduates will become chief executive officers of top American companies. DePauw ranks 12th in the nation among private liberal arts colleges and universities as the baccalaureate source for Ph.D. degrees in all fields, according to a 1996 survey by Franklin and Marshall College.
Back