PBS Documentary Profiles Author Barbara Kingsolver '77
July 17, 1998

July 17, 1998, Greencastle, Ind. - A one-hour documentary on best-selling author Barbara Kingsolver, a 1977 graduate of DePauw University, is scheduled for broadcast on PBS on Thursday, July 30. Two DePauw professors are interviewed in the program. Signature: Barbara Kingsolver is scheduled to air at 10 p.m. ET, but viewers should check local listings.
Kingsolver's novels, short stories and essays focus on people caught in social dilemmas and struggles, and her art springs from an acute sense of injustice. "I'm a political writer. I make no bones about it," she said. "When I see something that makes me angry, my impulse is to act to change it. That's why I write the kind of books that I do."
The PBS program follows Kingsolver from her native Kentucky to her present home in Arizona. It includes details of her years as a biology major at DePauw. W. Preston Adams, DePauw professor of botany, recalls Kingsolver during her student days. Thomas A.
Emery, DePauw professor of English, discusses her writing. The documentary also includes readings by Kingsolver as well as comments from colleagues, critics and friends, among them writers Amy Tan and Dave Barry. There is prized footage of Kingsolver playing keyboard with The Rock Bottom Remainders, a rock band consisting of writers led by Stephen King.
Kingsolver writes from a specific agenda, but her books are not polemical. Laced with humor and insight, Kingsolver's books appeal to a wide, appreciative audience. Her works include the novels Pigs in Heaven, Animal Dreams and The Bean Trees. Her short stories have been collected in Homeland and her essays in High Tide in Tucson. A book of poetry, Another America, was inspired by the United States' involvement in Latin American affairs.
"I believe the creation of empathy is a political act," she said. "The ability to understand and really feel for people who are different from ourselves - that's a world-changing event. It's the antidote to bigotry and spiritual meanness, and all the terrible things those deficiencies lead us into."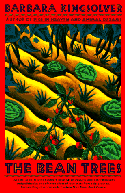 She traces her artistic stance to her childhood. When she was eight years old, her father, a country doctor, took his family to Africa where he ran a clinic. Being part of a small racial minority and feeling judged by skin color were sobering experiences -- experiences that every white American should have, Kingsolver believes.
Her vision also was shaped by life in Kentucky, where Kingsolver could easily see the difference between the haves and have-nots. For example, her hometown did not have a public swimming pool for children, but nearby, behind white fences, thoroughbred horses exercised in their own private swimming pools.
Signature: Barbara Kingsolver is part of the PBS tradition of presenting documentary portraits of American artists. It is underwritten by the Annenberg/CPB Project and produced by Kentucky Educational Television.
Back