Timothy H. Ubben '58 Elected Chair of DePauw's Board of Trustees
May 13, 1998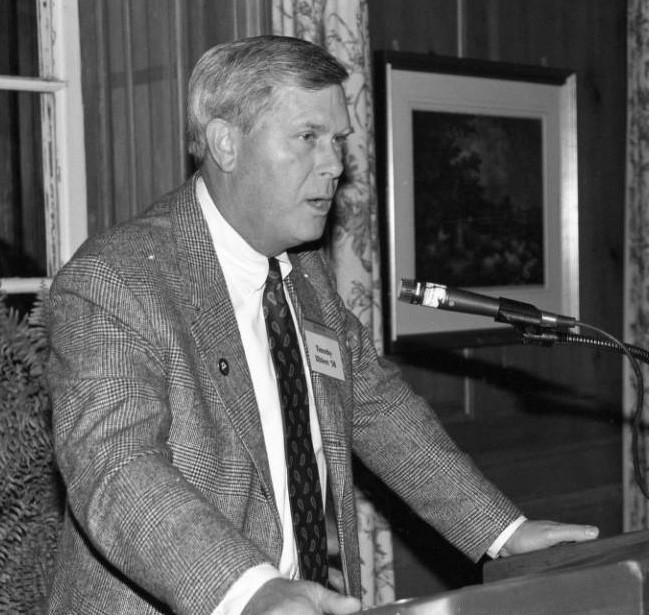 May 13, 1998, Greencastle, Ind. - The Board of Trustees of DePauw University has elected Timothy H. Ubben as its next chair. Ubben is chairman and managing director of Lincoln Capital Management Company. Located in Chicago, Illinois, the company is one of the nation's largest independent investment managers with over $50 billion in assets under management.
Ubben, a 1958 graduate of DePauw, received his M.B.A. from Northwestern University in 1959. During his college years, Ubben was an active student leader. A Rector Scholar, he was also a Union Board president, a member of the "D" Association and German Club and the first chairman of the Little 500 in 1956.
He has served his alma matter in a number of leadership capacities. A past president of the DePauw Alumni Association and past member of the National Annual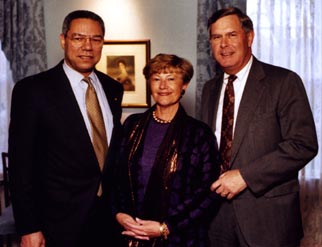 Fund Executive Committee, Ubben also served three terms as chairman of the Annual Fund, longer than any chair in DePauw's history.
Currently, Ubben chairs the University's Leadership for a New Century capital campaign, which has a goal of $153 million dollars and to date is running ahead of schedule with total commitments and gifts exceeding $140,000,000. He also chairs the Development and Alumni Affairs Committee of the Board of Trustees. (right: 1994 Ubben Lecturer Gen. Colin Powell with Sharon and Tim Ubben)
"Mr. Ubben's leadership and his deep commitment to the University have been instrumental to DePauw's ability to make its case to contributors in this current campaign," says University President Robert Bottoms.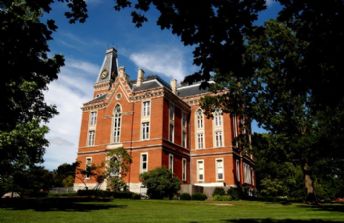 At the April 30 board meeting at which Mr. Ubben was elected, President Bottoms and the trustees also paid tribute to the exemplary leadership of Ian Rolland, CEO and president of Lincoln National Corporation, who is retiring as DePauw's board chair having served three years in that capacity, the maximum term of service.
In addition to the selfless giving of his time, Tim Ubben and his wife Sharon '58, have generously supported a scholarship fund for DePauw students, and have contributed to the Management Fellows Program and athletic capital projects. The Ubbens also endow a lecture series which has brought world leaders to speak to students, faculty and the community. "Over the last twelve years, the educational experience has been enriched by the voices of such figures as Margaret Thatcher, Shimon Peres, Benazir Bhutto, Willy Brandt, Colin Powell, Elie Wiesel, Jesse Jackson, and Bill Bradley," commented President Bottoms.
"Both faculty and students view the Ubben Lectures as a prime benefit of working and studying at DePauw." (at right: the Ubbens with Barbara Bush, a 1996 Ubben Lecturer)
Ubben has also been a member of the President's Council at the University of Illinois. His other professional affiliations include membership on the Board of Governors of Institution for International Development, Financial Analyst Federation, and the Association of Investment Management and Research. Tim Ubben is also a board member of Opportunities International, a philanthropic organization which assists communities to create jobs and stimulate small businesses for the underprivileged.
Back