Famous DePauw University Recipes in New Cookbook
April 6, 1998
April 6, 1998, Greencastle, Ind. - Students have always remarked about the great food served on the DePauw University campus -- especially when some of the recipes are their favorites from home. Alumni and community visitors to the campus recall fondly some of the traditional DePauw favorites. Now, the best of both are compiled in a new cookbook, A Taste from Home and Old DePauw, and offered by the DePauw dining services. The 300 recipes in the cookbook are all sure to please the taste buds.
The "Taste from Home" part of the title refers to a program conducted by DePauw dining services through which parents were invited to submit recipes for the dishes their sons and daughters prefer at home. DePauw dining services incorporates these recipes into the daily menus in the residence halls, thus providing a warm "taste from home" for students away at college.
Of course, the "old-time favorites" at DePauw are included, too. Recipes include the delicious and well-known angel biscuits, key lime pie, sour cream coffee cake and others. The recipes for these old-time favorites have been known heretofore only in the DePauw kitchens.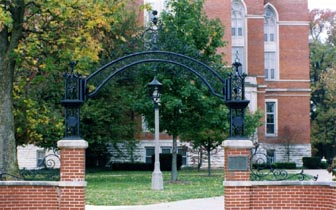 Anyone wanting a copy of the cookbook may purchase one for $10 at the Dining Services Office in Mason Hall. If you want to order by mail, there is an additional charge of $1.50 for postage and handling. To purchase by mail, write to: Dining Services Office, Attn. Nancy Stringer, DePauw University, P.O. Box 37, Greencastle, IN 46135-0037.
For further information and questions, call the DePauw Dining Services Office at (765) 658-4325.
Back