Neal Abraham Named VP for Academic Affairs
March 30, 1998
March 30, 1998, Greencastle, Ind. - Neal Broadus Abraham, the Rachel C. Hale Professor in the Sciences and Mathematics and Professor of Physics at Bryn Mawr College in Pennsylvania, has been appointed vice president for academic affairs and dean of the faculty at DePauw University, effective July 1, DePauw President Robert G. Bottoms announced today.
As chief academic officer of the University, Abraham will be responsible for all areas of curriculum and instruction concerning students and faculty, including such elements as curricular and program development, faculty appointments and evaluation, and faculty development. Also reporting to academic affairs are the library, the School of Music and four special student fellows programs in management and entrepreneurship, media studies, traditional honors and science research which attract exceptional applicants to DePauw each year.
Abraham, a distinguished scholar and researcher in his field, has been a faculty member at Bryn Mawr since 1980. He received his Bachelor of Science degree in 1972, graduating Phi Beta Kappa and summa cum laude with a major in physics and a minor in mathematics, from Dickinson College. He earned his Ph.D. in physics in 1977 from Bryn Mawr College. Following his doctoral studies, he served initially as an assistant professor of physics at Swarthmore College from 1977 to 1980. He has served twice as chair of the physics department at Bryn Mawr, from 1984 to 1987 and 1991 to 1993.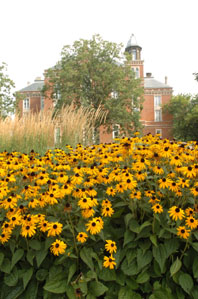 President Bottoms said, "Neal Abraham brings to DePauw a proven record of achievement in his field as a scientist and scholar at a level of distinction which will serve him well as the leader of an accomplished faculty. Of equal importance in our choice of him was his love and dedication to his work in the classroom. His interests and educational philosophy of teaching the student and not just the material are a good match for our mission at DePauw where teaching is the primary focus."
Abraham's areas of research include nonlinear dynamics, chaos and spatio-temporal dynamics in lasers and other nonlinear optical systems; stochastic fluctuations in optical amplifiers; and noise and dynamical fluctuations in lasers. In addition to more than 20 years of teaching, Abraham has written and published widely in his field. His more than 200 publications include a book, more than 100 articles in refereed journals and over 50 chapters in conference proceedings.
During his career, Abraham has received numerous research fellowships, including an Alfred P. Sloan Research Fellowship and an Alexander von Humboldt Fellowship. He is also a Fellow of the Optical Society of America, the American Physical Society and the American Association for the Advancement of Science. Abraham has held visiting faculty appointments in Italy, France, Belgium, Spain, Russia and China. His work has been supported by the National Science Foundation, the Scientific Affairs Programme of NATO, the Army research Office and National Supercomputing Centers.
He has also guided the development of future scientists. Abraham has supervised 42 undergraduate projects and 16 graduate students working toward their master's and doctoral degrees. Among his protégés have been winners of prestigious national and international research fellowships.
Until recently, Abraham served as a member of the Executive Committee of Project Kaleidoscope, a national effort for the study and improvement of undergraduate math and science education and as a member of the Committee on Undergraduate Science Education of the National Research Council. Abraham was also one of the principal authors of its recently issued handbook on science teaching. He is now a mentor in PKAL's Faculty for the 21st Century Program and an organizer of its workshops on Maintaining a Research-rich Environment for the undergraduate programs. He currently serves as the president of the Council on Undergraduate Research and was one of the founding members and later chair of the Governing Board of the National Conference on Undergraduate research.
Abraham's leadership and vision for education extends beyond the realm of science. At Bryn Mawr, he also served on a steering committee for new college-wide critical thinking and critical writing courses for first and second year students.
DePauw Political Science Professor O. Ralph Raymond, chair of the search committee for the vice president for academic affairs, commented, "Abraham's appointment was the culmination of a national search for the next academic leader to bring DePauw into the 21st century and up to the next level. In recommending Neal Abraham of Bryn Mawr College, we have found a person distinguished nationally and internationally as teacher and scholar. Abraham understands the role of dedicated teacher; he has great expertise in combining teaching with collaborative student research; he has demonstrated a commitment to advancing the frontiers of his own science; and he has a breadth of view which transcends his own discipline and embraces the liberal arts generally."
Abraham's natural affinity for his colleagues and students was clearly evident to the search committee. "He knows what we as a faculty are about. He has a sense of our responsibility to both our students and our science," said Raymond, "and he has a vision of DePauw for the future."
In responding to his appointment, Abraham commented, "I was most impressed by DePauw's commitment to developing leadership qualities of its students, to
fostering a wide range of opportunities for international study, and to cultivating a rich educational program for a culturally diverse mixture of students and faculty. The faculty members I have met convinced me of their interest in energizing the various traditional and specialized programs.
"The impressive mobilization of financial resources in recent years and the thoughtful reflections and reports from a time of recent self study indicate that DePauw is poised to make significant improvements. I am honored to have the opportunity to join in these efforts and to give leadership and guidance to the forthcoming evolution."
The University is currently conducting The Campaign for DePauw: Leadership for a New Century in which one of the major goals is to provide the resources to build upon the strengths of an educational program already recognized for its successful outcomes in a student body which traditionally goes on to rewarding future lives.
"The caliber of Abraham's leadership and professorial acumen will further challenge the rigor and bolster the knowledge base of a DePauw education as we continue to prepare our students to lead and to serve in an increasing diverse and rapidly changing world," President Bottoms said.
Back