NPR to Broadcast Unusual Tuba Recital by Prof. Orcenith Smith
December 29, 1997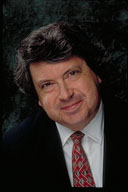 December 29, 1997, Greencastle, Ind. - Orcenith Smith, DePauw University professor of music and director of the DePauw Symphony Orchestra, will be heard nationally on Wednesday, Jan. 7, when he performs an unusual, live solo tuba recital on National Public Radio. Smith will perform the recital, titled "Tuba Proof! Tuba Spoof!," at NPR's studio in Washington, D.C., from 10-11 a.m. EST. He will be accompanied by Lorna Griffitt, DePauw associate professor of piano. The program will include interviews with the performers.
The recital is an encore of the program Smith and Griffitt presented at Carnegie Hall on Oct. 2, 1997. Acknowledging the tuba as a "funny" solo instrument in its review of the recital, the New York Times wrote: "Mr. Smith is funny, but he is also a good tubist. And his program, most of which, understandably, he had appropriated from other instruments, was rather charming."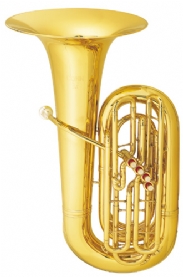 Smith said the recital program has two parts. The first half includes standard tuba repertoire. The second half consists of opera arias and musical theatre songs that lend themselves to the tonal beauty of the solo tuba.
The second half of the recital includes opera arias from Puccini's , Bizet's Carmen and Mozart's The Magic Flute as well as musical theatre from Frank Loesser's Most Happy Fella and Bernstein's West Side Story.
"My favorite artistic aspect of the recital is the beautiful melody and fun melody," Smith said. "We have put together a recital that is fun to play. Many of the pieces bring a sense of enjoyment in performing them."
Just as important as Smith's fun in performing the pieces is the enjoyment the audience receives from the music on the tuba.
Back