DePauw's Dave Berque Named 1997 US Professor of the Year
October 23, 1997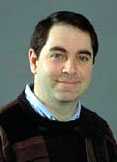 October 23, 1997, Greencastle, Ind. - Reflecting a tradition of outstanding teachers and teaching, DePauw University Associate Professor of Computer Science Dave A. Berque is the 1997 U.S. Professor of the Year for baccalaureate colleges, it was announced today in Washington, D.C., by the Council for Advancement and Support of Education. Berque, who joined the DePauw faculty in 1992, was selected in part because of the way he involves students in learning and collaborates with them on various projects. "I always remember that I'm teaching people and not information," he said.
See a video featuring Dr. Berque here:

[Download Video: "Dave Berque - Professor of the Year" - 7427kb].
The Carnegie Foundation for the Advancement of Teaching sponsors the annual teaching recognition event and provides a $5,000 cash award to the recipient. Outstanding professors are selected in four categories: community colleges, baccalaureate colleges, master's institutions and doctoral universities.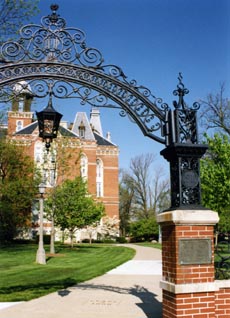 This is the second time that CASE has awarded honors to a DePauw professor. In 1989 Wayne E. Glausser, DePauw professor of English, was named the Indiana Professor of the Year.
As a computer science professor, Berque is keenly aware of the role of technology in education. In fact, Berque and his students at DePauw have applied technology to education and developed a system that does put more emphasis on people in the teaching process.
Berque is concerned that students spend too much time taking notes in class and are unable to devote sufficient time to discussion and analysis with the professor. "While I'm talking about information at this end of the blackboard, students are still writing down notes at the other end of the board. That is frustrating for students and the professor, and it interferes with learning," Berque said.
In an attempt to address this problem, Berque's students have written the software for an electronic blackboard which permits the professor to write class lecture notes on a laser board on the wall, and the handwritten notes are automatically saved to PCs at the students' desks. Students can annotate the notes using light pens on their screens and save the notes for future review and study.
Now being tested as a prototype with some of Berque's students, the electronic blackboard alleviates writer's cramp for students and permits Berque to spend more time engaging students in discussion. "The ideal educational technology will be one which
enhances the way teachers and students work together, and it is important that such technologies are developed aggressively," Berque said. "But it is absolutely essential that educational technology focuses on the teachers and students who are directly involved with the learning process."
Berque practices what he preaches, collaborating with dozens of undergraduate students on research projects. Nineteen DePauw students have been co-authors with Berque of published papers, and several have traveled with Berque to present their work at professional conferences.
"One of the reasons why the electronic blackboard project has been so successful is because the undergraduate student collaborators have been able to contribute to the system design," Berque said. "Equally important, the students were able to contribute to the human side of the project from a unique perspective.
"After all, the system aims to enhance the way teachers and students share written information during class. Who better to design such a system than a team that includes students?"
Back