Book by Prof. James Cooper Examines Concrete Bridges of Indiana's Counties
August 15, 1997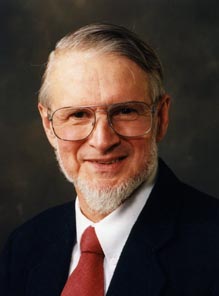 August 15, 1997, Greencastle, Ind. - The concrete bridges of Indiana lit a passion in James L. Cooper, and that sparked quite a love affair spanning the first four decades of the 20th century. Although perhaps not as romantic as the covered bridges of the popular book and movie, The Bridges of Madison County, the concrete bridges of Indiana's counties offer a lot more than just a way to cross to the other side, believes Cooper, a professor emeritus of history at DePauw University. Indiana even has concrete bridges in its own Madison County.
Cooper borrowed a chapter from that book and traveled the state to locate and photograph about 1,000 of the best bridges, nearly one-third of the concrete bridges still existing in the state. He recorded their unique characteristics and researched their designers and history.
He has now put it all together in a book titled Artistry and Ingenuity in Artificial Stone: Indiana's Concrete Bridges, 1900-1942. Concrete was originally called artificial stone. Besides exploring the ideas that architects and engineers expressed in their bridge designs, the 280-page book recounts stories that other Hoosiers invented for some of these spans.
Winner of the Wilbur D. Peat Award for his "outstanding contribution to the understanding and appreciation of Indiana's architectural heritage," Cooper shows how landscape architects turned bridges into civic monuments in Hoosier cities early in the century. He translates scientific language to explain in simple English how concrete bridges work and how engineers have attempted to create more efficient spans at less cost.
Cooper highlights the work of two Indiana engineers, Daniel B. Luten of Indianapolis and William S. Moore of South Bend. Thousands of Luten-designed bridges remain around the country, and efforts are under way to preserve many of them. "Concrete bridges illustrate some of the underlying political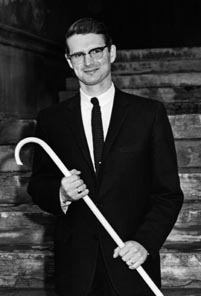 and social changes in the state and nation," Cooper said. "They are an important part of the story of the establishment of state highways. To some reformers 'good roads' and bridges meant design done by government-employed engineers operating within national guidelines. Indiana's automotive promoters led the way to see that 'good roads' were car-friendly." He also indicates how the new highway system and its industrial allies dramatically affected bridge design in Indiana.
Cooper finds it difficult to pick one bridge over another, but his personal favorites include:
The Bridge Street bridge in Elkhart which Moore designed in 1939 and includes some exciting structural elements and unusual, moderne decor. It is a rigid frame structure hollowed out.
The Tennessee Avenue Bridge in Fort Wayne features unusual City- Beautiful design decorated in brick. The Carrollton Bridge in Carroll County that was designed by Luten.
The Portland Arch bridge in Portland (Jay County) that features the only bowstring arch design in the state.
The George Rogers Clark Memorial Bridge in Vincennes. Cooper feels it is the most beautiful state highway bridge.
The Capitol Avenue Bridge over Fall Creek in Indianapolis. It was designed by George Kessler, another well-known concrete bridge designer who is the namesake for Kessler Boulevard in Indianapolis.
Some concrete bridges are famous, or infamous, for other reasons. For example, stories abound about ghosts inhabiting some concrete
bridges, and many of the stories involve trains crossing over them. Concrete bridges also are ideal for graffiti and self-appointed mural painters.
Anyone interested in obtaining a copy of Cooper's book can write to Historic Bridges Books, Asbury Hall, DePauw University, Greencastle, Indiana 46135. Or send e-mail to the author, James Cooper. Cost is $19.95 per book shipped in Indiana.
James Cooper has been a member of the DePauw University faculty since 1964. In 1988, he authored Iron Monuments to Distant Posterity: Indiana's Metal Bridges, 1870-1930. Learn more in this previous story.
Back