ESPN, Founded by Bill Rasmussen '54, Signed On 25 Years Ago Today
September 7, 2004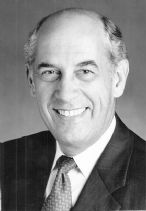 September 7, 2004, Greencastle, Ind. - "Twenty-five years ago today -- at 7 p.m. September 7, 1979 -- Entertainment and Sports Programming Network went on the air with the novel idea of broadcasting sports programming all day long," notes today's edition of Greencastle's Banner-Graphic. "It was the brainchild of 1954 DePauw University graduate Bill Rasmussen and his son." Today, the network now known as ESPN is a household name and one of cable television's most successful franchises.
The story continues, "In his account of the evolution of the American sports cable channel, ESPN: The Uncensored History, Michael Freeman describes a programming discussion between Rasmussen and his son Scott [a 1986 DePauw graduate] on the eve of its launch. 'Dad, play football all day for all I care,' Scott finally exclaimed. 'I'm just sick of talking about this.' Bill Rasmussen did a double take. 'Why not? I mean, why not? What's wrong with football all day?'"
The newspaper notes that Rasmussen "was recognized in 1994 as one of 40 individuals who had the greatest impact on the world of sports over the previous 40 years." Rasmussen is quoted: "As founder of ESPN, I saw a company and an entire industry explode on the American television scene with
breathtaking speed. Its impact forever changed the way Americans watch television."
Bill Rasmussen is also cited in a Washington Post story marking ESPN's silver anniversary. Read it by clicking here.
Back