Second CD by Junior David McMillin to be Released September 21
September 9, 2004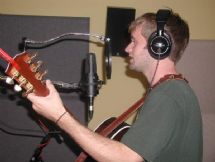 September 9, 2004, Greencastle, Ind. - Between Here and Home, a four song EP by DePauw University junior David McMillin, will released on September 21. CDBaby.com will begin accepting pre-orders for the new disc Tuesday (click here), and the first 100 copies will be autographed by the singer-songwriter. Between Here and Home is McMillin's second release. His debut, Where I Belong, came out two years ago.
McMillin will also perform at an on-campus CD release party at the Walden Inn's Fluttering Duck, September 21 at 9 p.m., which will be broadcast live on WGRE (listen here). His "street team" is also organizing listening parties in Colorado, Indiana, Alabama, South Carolina, Michigan, Illinois, New York, Arizona, and (possibly) Hawaii.
"Between Here and Home is exactly what you think it is -- songs written on the road, inspiration from cities I visited for the first time within the last year and the people I met along the way," McMillin says. "These songs are still the stripped down acoustic style. Within the next year or so, you will be hearing new songs with new instruments and new people. I took a week in July on the Northern Shore of Michigan and let this music take shape."

Of Where I Belong, Discovering Artists.com wrote, "His songwriting is beautiful and enchanting throughout this collection of acoustic jams. Ranging from topics of love to spirituality, McMillin's verses are heartfelt and complex, always honest. Vocally, he's got somewhat of a bluesy, gruff voice. If you like Edwin McCain, you will probably enjoy this vibrant assortment of intertwining acoustics." The site gives the recording 3 1/2 stars out of a possible five.
Visit David McMillin's Web site by clicking here.
Back