Former VP Dan Quayle '69 Back in Indiana for Fundraiser, Speaks of DePauw
September 9, 2004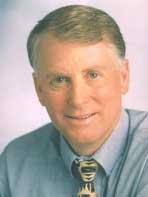 September 9, 2004, Greencastle, Ind. - America's 44th Vice President, Dan Quayle, is back in Indiana for the annual charity golf tournament that bears his name, and he's talking about his alma mater, DePauw University. An article on the Web site of CBS television affiliate WANE in Fort Wayne, states, "These days, Quayle primarily resides in Phoenix, Arizona, where her serves on various corporate boards. When asked if he's considered returning to politics, the former Vice President said 'I've had many thoughts, but no real burning desire; right now I really enjoy the business activities.'"
The story continues, "Quayle is, however, trying to get others involved in politics. He recently taped a message geared toward students at DePauw University. 'We have to get good people involved; I still go to colleges and universities and preach the line of public service.'"
The TV station's report adds that Quayle remains politically active. "I'll be helping out as much as I can; I'm still in touch with the President, Vice President, Secretary of Defense, and Secretary of the Treasury. They're all my friends, so I spend time with them, and I'll be out

campaigning," says Quayle.
Read the complete article by clicking here.
The golf tournament and an accompanying auction raise money for The Quayle Center, Home of the American Vice Presidency Museum, located in Huntington, Indiana. The museum averages about 6,000 visitors a year. Visit the Quayle Center online here.
Back