Time Expires on Tigers in a Monon Bell Heartbreaker
November 8, 1986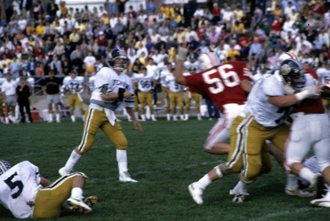 November 8, 1986, Crawfordsville, Ind. - With the clock ticking toward zero and no time outs left, DePauw's field goal unit couldn't get on the field before time expired, giving Wabash College a 24-23 victory in the 1986 Monon Bell Classic. The Little Giants retain possession of the Bell for the third consecutive year.
View a "Monon Memory" of the game action, produced by Ken Owen '82, director of media relations at DePauw, here:

[Download Video: "1986 Monon Memory" - 5223kb].
Visit the Monon Bell Web page and read more about the history of the classic rivalry by clicking here.
Back