LPGA's "Legal Eagle," Eve Wright '96, Profiled in Black Enterprise
September 12, 2004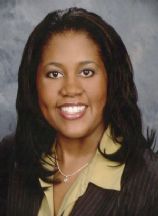 September 12, 2004, Greencastle, Ind. - "As director of legal affairs for the Ladies Professional Golf Association, the world's longest-running women's professional sports association, Eve Wright is one of the first African-American women to work for the LPGA at this level," notes a lengthy profile of the 1996 DePauw University graduate, published in the September issue of Black Enterprise. Wright tells the magazine, "If I'm an inspiration to other African-American women interested in golf, it's only because I am able to walk down a path cleared by the unconquerable Althea Gibson, the first African-American LPGA Tour player."
The story by Laura Carlson notes, "The DePauw University graduate went on to earn a J.D. degree from Indiana University School of Law and participated in the Consortium Program at Howard University School of Law. Wright, however, still had enough
time to get involved. A rigorous extracurricular schedule in college helped her format her future goals."
Eve Wright says, "I was involved in several organizations in college. I pledged Chi Chapter of Delta Sigma Theta sorority. I was also a board member of the Indiana district of Circle K International, president of the Residence Hall Association, as well as a member of the Association of African-American Students and the gospel choir."
Wright came to the LPGA from the Minneapolis law firm of Fredrikson & Byron, where she was an associate specializing in e-business and corporate transactions. She hopes that her new role as the LPGA's director of legal affairs "will show African-American women that opportunities exist in professional sports, even in those sports in which African-Americans have not traditionally had a significant presence. I hope
they will see me and be inspired to explore those opportunities... If my position with the LPGA helps to further erode the stereotypes regarding the positions that African-American women can and cannot hold in professional sports, then I am merely fulfilling my obligation to uphold the legacy that our mothers, grandmothers, and great grandmothers have left us."
Visit Black Enterprise online by clicking here (the article, "Legal Eagle Flies Above the Golf Course," is not available at the site). Access the LPGA here.
Back