361° Receives National Awards for Web Site, Video
September 10, 2004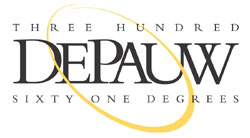 September 10, 2004, Greencastle, Ind. - DePauw University's technology initiatives, 361°, will be recognized with two national awards from the Association of Computing Machinery - Special Interest Group on University and College Computing Services (ACM - SIGGUS) next month. The organization has deemed the 361 Web site, and a video created to promote 361° programs, as the best of their kind in the USA. The awards will be presented at the ACM - SIGUCCS Fall 2004 Conference in Baltimore, Maryland, October 10-13, 2004. The winning entries will be displayed during the conference for perusal by the conference participants.
"Our staff and students are being honored in two of the five categories, which sends a very positive message about the opportunities for learning and creating at
DePauw University," says Dennis Trinkle '91, chief information officer and coordinator of 361° programs. "The video award is especially nice, since it is our students who did all the work and who are being recognized. They were competing against schools of all sizes and against professional video staffs. It's a real feather in the caps of the students in our Information Technology Associate Program."
Visit the 361° Web site by clicking here. View portions of the award-winning 361° video here:

[Download Video: "Clip #1" - 1495kb];

[Download Video: "Clip #2" - 2860kb];

[Download Video: "Clip #3" - 3095kb].
In February 2001, DePauw University received a $20-million grant from Lilly Endowment to establish a national technology center and launch a series of initiatives to guarantee that the university's 2,350 students, faculty, and staff will be equipped to provide the creativity and leadership required by the digital age. The name of the resulting model -- 361° -- refers to DePauw's goal that these initiatives will prepare students for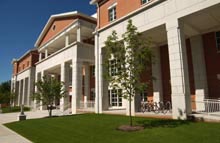 every degree of life and for creating the future. DePauw's efforts reinforce the institutional emphasis on critical thinking, problem-solving, interpretation, learning through experience, and learning through reflection. In this context, information technologies are integrated into curricular and co-curricular activities as a liberal art rather than in a skill-based approach, and IT tools are used as a scaffolding for discussion.
DePauw received the 2003 EDUCAUSE Award for Systemic Progress in Teaching and Learning for its 361° Initiatives. One of six EDUCAUSE Awards for leadership and innovative use of technology in higher education, the EDUCAUSE Award for Systemic Progress in Teaching and Learning had never before been presented to a university or college that is not a doctoral/research institution. This prestigious honor recognizes campus-wide programs and practices that use information technologies to support student-centered teaching and learning in ways that are transformative, sustainable, and replicable (read more here).
In April 2003, the New Media Consortium (NMC) notified DePauw that it has been named a New Media Center for its 361° initiatives (read more here), one of only about 125 institutions worldwide to receive the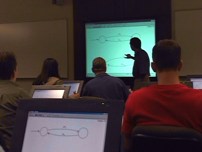 designation. A month later, DePauw was among three Indiana colleges and universities to receive a Mira Award for 361°'s excellence in "the delivery or use of technology to further learning and educational achievement" (read more here). The Mira Award was presented by TechPoint, the leading agent for change for Indiana's technology industry.
ACM - SIGUCCS provides a forum for those involved in supplying information technology services on a college or university campus. Visit the conference's Web site by clicking here.
Back