WMU Dean Gary Wegenke '60 in Iowa Newspaper
September 13, 2004
September 13, 2004, Greencastle, Ind. - Gary L. Wegenke, dean of Western Michigan University's College of Education and a 1960 graduate of DePauw University, is the subject of a "Where Are They Now?" column in the Courier of Waterloo and Cedar Rapids, Iowa. Wegenke served five years as Waterloo's superintendent of schools.
He tells the newspaper, which mentions his DePauw degree, "I was superintendent in Waterloo during the 'farm crisis' years. Upon arrival in 1983, I was immediately engaged in declining enrollment and school closing issues. The many community members that participated in the discussions and final decisions surrounding the school closing issue was overwhelming. I also have fond memories of school board members who, collectively and individually, were proud of the Waterloo schools and the community they served."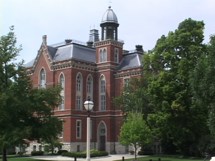 Of his current position, Dr. Wegenke states, "The College of Education at WMU is the eighth largest producer of teacher educators in the nation. There are nearly 5,000 undergraduates and 1,600 graduate students in the college."
Read the complete column by clicking here.
Back