The Mystery of Edwin Drood Opens DePauw Theatre's 2004-05 Season
September 19, 2004
September 19, 2004, Greencastle, Ind. - A wild and warm-hearted musical, The Mystery of Edwin Drood by Rupert Holmes, will launch the DePauw Theatre 2004-2005 season on Friday, September 24, in the Performing Arts Center's Moore Theatre. Winner of the 1986 Tony Award for Best Musical, The Mystery of Edwin Drood is based on an unfinished novel by literary legend, Charles Dickens, and features multiple dramatic devices sure to surprise and delight. The production will extend over two weekends with additional performances on September 25 & 26 and October 1 & 2. Friday and Saturday shows begin at 8 p.m.; Sunday matinees are at 2:30 p.m.
The setting for the musical is a Victorian music hall in London, where a hammy, second-rate troupe is preparing to put on its "musicale with dramatic interludes" of the Dickens mystery. In this play within a play concept we get to know these lusty, arrogant, ambitious players as well as their Dickens personas. The gifted vocalist Mr. Clive Paget plays Dickens' John Jasper, an opium-addicted choirmaster who is madly in love with his music student, the fair Miss Rosa Bud. Miss Bud, played by the troupe's ingenue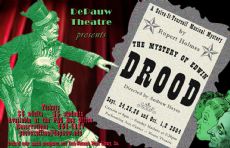 Miss Deirdre Peregrine, is engaged to Jasper's nephew, the young Edwin Drood who is played by London's leading male impersonator. As several more lively and intriguing player/ characters are introduced -- all with motives and grievances of their own -- the play spirals toward its climactic turning point: Mr. Drood's baffling disappearance and the abrupt end of Dickens' novel.
The play doesn't end here, however. The players in the Music Hall Royale turn to the audience for its vote on several unsolved matters including the solution to Drood's disappearance. Mayhem ensues as the players campaign for votes, vying for additional stage time as the audience's choice to present one of the play's multiple possible conclusions.
Director Andrew Hayes has chosen The Mystery of Edwin Drood because of his attraction to the "unknown in theatre. The fact that theatre is ephemeral and live promotes the 'anything can happen' feel. No matter how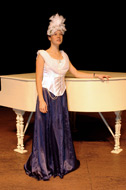 well rehearsed and 'set' a play is, there is always the possibility of the new and interesting happening." This element is doubly present in The Mystery of Edwin Drood, which is structured to intrigue even the show's cast who has no idea how the evening will conclude.
Lauded by the New York Times as superb for its "populist spirit... the company and audience become united in the joy of theatrical invention," the production contains sexual innuendo, but is otherwise recommended for all ages.
Tickets are $3 for students and $6 for adults and may be purchased at the Performing Arts Center Box office. Reservations and information can be obtained at (765) 658-4827 or by sending an e-mail here. Learn more about the production by clicking here.
Back