DePauw Symphony Orchestra Opens Season Sunday with World Premiere of Work by Daniel Reck '03
September 15, 2004

September 15, 2004, Greencastle, Ind. - The DePauw University Symphony Orchestra will open its season under the direction of Orcenith Smith this Sunday, September 19th, with works by Jacques Offenbach, Felix Mendelssohn, and a world premiere by 2003 DePauw graduate Daniel Reck. The concert, which begins at 3 p.m. in Kresge Auditorium of the Performing Arts Center, is free and open to the public.
This event marks the public's first chance to hear this year's cast of talented musicians and foreshadows the DePauw Opera's February production of Offenbach's Orpheus in the Underworld. The opera's overture, which features the world-famous "can-can" toward its close, will open the concert. According to Professor Smith, it was a logical choice to begin the program because, "It is music filled with energy and gusto that brings us to a place of humor and frivolity." Those who find themselves in agreement are encouraged to attend the opera in its entirety, which will run February 10-13, 2005, in Moore Theatre.
Following the Offenbach is the premiere of Daniel Reck's Of Dreams Eternal. The work is a musical tribute to the life of Douglas Jeffries, who graduated in the same year as Reck with a degree in computer engineering from the Rose-Hulman Institute of Technology in Terre Haute. He was killed in February in a weather-related automobile accident.
Daniel Reck received word of the accident as he was putting the final touches on his composition. Originally dedicated to the DePauw University Orchestra and Orcenith Smith, Reck added a second dedication in order to honor the memory of his friend. "From the start, Of Dreams Eternal was intended to be a celebration of dreams and life," Reck says. "It isn't a memorial, but a fitting portrait of Doug's life. He touched a lot of people."
"The students suddenly came face-to-face with an enormous personal tragedy and Daniel wanted to find a way to honor their feelings for the young man by creating music, something they all shared," explains Smith. "Of Dreams Eternal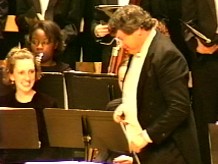 is a musical tribute that is noble, energetic and uplifting."
Concluding the afternoon concert is Felix Mendelssohn's incidental music to William Shakespeare's A Midsummer Night's Dream. Written in 1843 at the request of his employer, the King of Prussia, this collection of pieces and songs remains one of Mendelssohn's most popular works. For this performance, the orchestra will play a selection of movements from the twelve pieces, including the Scherzo, Intermezzo, Nocturne, as well as the famous Wedding March.
Visit the DePauw University School of Music online by clicking here.
Back