Former VP Dan Quayle '69 Welcomes Attendees to "DePauw Discourse 2004: Issues for America"
September 16, 2004
Also: Learn More About "Issues for America"
September 16, 2004, Greencastle, Ind. -

[Download Video: "Welcome from Former Vice President Quayle" - 384kb]"I bring you special greetings on this wonderful occasion where the DePauw family is discussing the issues confronting America," says the nation's 44th Vice President, Dan Quayle, in a message to mark today's opening of "DePauw Discourse 2004: Issues for America." The three-day election issue forum hosted by the Washington C. DePauw Society starts with a Timothy and Sharon Ubben Lecture by Ambassador L. Paul Bremer III, former presidential envoy to Iraq, at 8 p.m. in Kresge Auditorium of the Performing Arts Center (read more here).
Quayle, a 1969 graduate of DePauw University, pre-recorded his greeting in Arizona, where he now resides. Obligations in Japan prevent him from attending Issues for America this weekend in Greencastle.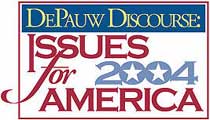 The former vice president believes the issues facing the electorate in 2004 are challenging and unusual.

[Download Video: "Relevance of the Symposium" - 1949kb] "The American people unfortunately had a serious wake-up call on 9/11. Terrorism was not a new issue, but it became a new reality on 9/11," Quayle says. "How do we respond? What do we do? What are the issues? How would each candidate handle it differently? And in this campaign you're going to hear a discussion about that. My prediction is you'll probably learn more from this symposium than you will from the candidates' speeches out on the campaign trail, including the debates. Today you will be able to go behind the scenes and learn about the issues, the complexities, [and] the intricacies that challenge our presidential candidates."
Quayle closed his remarks with a message for the student body.

[Download Video: "A Call to Action" - 1420kb] "Get involved in politics, get involved in public service. We need you, we desperately need you. We have to get young men and women, idealistic people, that want to engage in the political system to make America stronger, safer and better. And if we don't have those kind of people, then you have to ask yourself, 'What kind of country are we gonna have?'"
Ambassador Bremer's Ubben Lecture, "Iraq and the War on Terrorism," is free and open to the public. Friday's panels will feature Lee Hamilton '52, former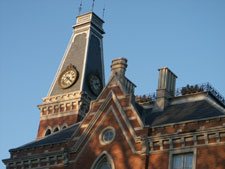 U.S. congressman and vice chair of the 9/11 Commission; civil rights leader, Pulitzer Prize-winner and political historian Roger Wilkins; and three dynamic panels of accomplished current and former public servants, journalists, and DePauw faculty members who will define domestic issues, discuss the media's impact on the presidential campaign, and contemplate America's role in the world.
Access the complete Issues for America schedule by clicking here.
Back