Award-Winning Children's Author Richard Peck '56 Offers The Teacher's Funeral: A Comedy in Three Parts
September 15, 2004
September 15, 2004, Greencastle, Ind. - "The best thing about Richard Peck's funny stories is the way he lets his characters slowly come to realize something about a person in their lives, and learn something about themselves as a result," writes Jeri Fischer Krentz in the Charlotte Observer. Krentz previews next month's release of The Teacher's Funeral: A Comedy in Three Parts by Peck, the Newbery Medal-winning children's author and 1956 graduate of DePauw University.
The column continues, "That happened to the kids in A Long Way from Chicago as they gradually discovered more about their wild, gun-toting grandma. And it happens here to 15-year-old Russell Culver of Indiana as he faces a dreadful school year in 1904 with his larger-than-life sister, Tansy, as a teacher. His old teacher, Miss Myrt Arbuckle, dies just before school begins... With such delightful characters keeping him company, Peck surely must have enjoyed writing The Teacher's Funeral. It's due out in October."
Access the article at the North Carolina newspaper's Web site by clicking here (a free registration is required).
Peck -- the 2001 recipient of the Newbery Medal (the top prize for children's literature given by the American Library Association), the 2002 winner of the Chicago Tribune Prize for Young Adult Fiction, and the 1990 winner of the prestigious Margaret A. Edwards Award,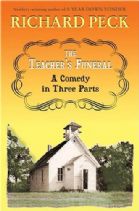 sponsored by the Young Adult Library Services Association of the American Library Association in cooperation with School Library Journal -- also received the National Humanities Medal from President George W. Bush on April 22, 2002, the only children's book author to ever be so honored (read more here). His 30 novels include A Year Down Yonder, A Long Way from Chicago and Fair Weather.
After winning the Newbery Medal, Peck told DePauw.edu that the University

[DOWNLOAD AUDIO: "Peck on DePauw" 603KB] "made a writer out of me. It warned me never to show my rough draft to anybody. That helps. I write each of my books six times because I have to, and it's the sixth version my editor sees and nothing before that. I learned that from DePauw professors."
Pre-order The Teacher's Funeral: A Comedy in Three Parts at Barnes & Noble.com or Amazon.com.
Back