Princeton Review: DePauw in Nation's Top 15 for Community Service Among Students
November 21, 1996
November 21, 1996, Greencastle, Ind. - DePauw University ranks among the nation's top 15 colleges where students can be active community service volunteers, according to the Princeton Review's first annual Guide to Campuses Where You Can Make a Difference. DePauw, a selective, liberal arts university with 2,100 students, is the only Indiana college ranked. The 15 colleges are "where students are truly making a difference in terms of service and political/social activism, both on campus and in the surrounding community."
Other colleges in the top 15 are Antioch College, Berea College, Cornell University, Hampshire College, Humboldt State University, James Madison University, Marquette University, Ohio Wesleyan University, University of Michigan, University of North Carolina, University of Rochester, Walla Walla College, Warren Wilson College and Wesleyan University.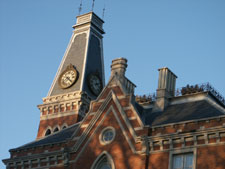 During the fall semester, 1,110 DePauw students signed up to do volunteer work for 20 community organizations through DePauw Community Services. More than 100 students participate in Winter Term in Service projects abroad and in the U.S. during January, and many other students take part in numerous weekend work projects and other public service efforts throughout the year.
Back