DePauw Announces $153 Million Campaign to Build 'Leadership for a New Century'
October 18, 1996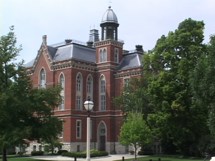 October 18, 1996, Greencastle, Ind. - DePauw University has begun a five-year, $153 million fund-raising campaign that is designed to continue and enhance the selective, liberal arts university's tradition of graduating men and women who become leaders in their professions and communities. "The Campaign for DePauw: Leadership for a New Century" was announced at a gala dinner tonight as part of DePauw's Old Gold Weekend. Seven hundred alumni, faculty, students and friends attended.
Board of Trustees Chairman Ian M. Rolland, a 1955 DePauw graduate and chairman/CEO of Lincoln National Corporation in Fort Wayne, said, "DePauw graduates have achieved positions of leadership in numbers disproportionate to the University's size (2,100 students). The objectives of this campaign will underwrite current programs and services and provide

financial flexibility that will enable the University to become even more effective in preparing students for leadership roles in the new century."
DePauw President Robert G. Bottoms announced that the University already has received commitments for $75 million of the Campaign goal. More than half of the leadership gifts come from two sources: the $28 million Wright Trust, the largest bequest ever received by the University, and a $10 million unrestricted commitment from Timothy H. and Sharon Williams Ubben, both 1958 DePauw graduates. Through the Wright Trust, the University established the John Ellis Wright Scholars Program and the John Ellis Wright Fund for Science. Timothy Ubben, managing director of Lincoln Capital Management, Chicago, serves as chairman of the Campaign Executive Committee.
DePauw ranks eighth in the nation and first in the Midwest among private liberal arts colleges as the baccalaureate origin of the nation's business leaders, according to a 1994 study by Standard & Poor's Corp. Fortune magazine in 1990 ranked DePauw 11th in the nation in terms of the likelihood that its graduates will become chief executive officers of Fortune 500 companies. DePauw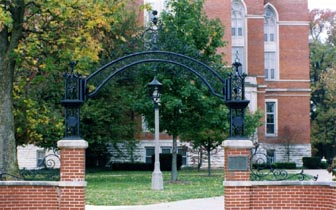 is twelfth among the country's liberal arts colleges as the undergraduate source of Ph.D. degrees in all fields, according to a 1993 study by Franklin & Marshall College.
"DePauw's 32,000 alumni around the world cite particular aspects of the DePauw experience as having the most influence in developing them into leaders and preparing them for success in their careers and lives," President Bottoms said. "Prominent among the factors they mention are the outstanding faculty members, liberal arts curriculum, exceptional campus facilities and the unusual number of opportunities at DePauw for students to become active and develop leadership skills with hands-on experience in conjunction with the liberal arts curriculum."
These cornerstones of a DePauw education will be supported by the campaign. Objectives of the fund-raising program include $23 million of endowment for faculty support; $81 million of endowment for student financial aid; $22.5 million of endowment to strengthen academic programs, tools for teaching and learning, and student services support; $11.5 million for facilities renovation and construction; and $15 million for operating support through the Annual Fund.
In addition to committee chairman Timothy Ubben, membership of the Campaign Executive Committee includes: DePauw
President Bottoms; Lawrence W. Clarkson, 1960 graduate and senior vice president of planning and international development for the Boeing Company, Seattle; Marletta Farrier Darnall, 1961 graduate and community volunteer, Chicago; Donald R. Daseke, 1961 graduate and president of Walden Residential Properties Inc., Dallas; Eugene L. Delves, 1950 graduate and retired from Saatchi & Saatchi Consulting, Chicago; James W. Emison, 1952 graduate and president of Western Petroleum Company, Eden Prairie, Minn.; George L. Mazanec, 1958 graduate and vice chairman, Panhandle Eastern Corporation, Houston; Andrew J. Paine Jr., 1959 graduate and president/CEO of NBD Indiana, Inc. Indianapolis; Ian M. Rolland, 1955 graduate and chairman/CEO, Lincoln National Corp., Fort Wayne; Theodore M. Solso, 1969 graduate and president of Cummins Engine, Columbus, Ind.; and William F. Welch, 1940 graduate and partner in the law firm of McHale, Cook & Welch in Indianapolis.
"At DePauw the generosity of past generations has been the constant that sustained the University and assisted many of us in our educations," Timothy Ubben said. "Now it's our generation's turn. We want a healthy, thriving, always improving university. This cause is, I believe, worthy of our support and dependent on it."
Back