DePauw University Natatorium Named in Honor of Charlie Erdmann
June 16, 1997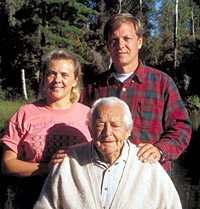 June 16, 1997, Greencastle, Ind. - In recognition of his 50 years of service to DePauw University and many years as a physical education professor and coach to generations of DePauw students, the university's natatorium has been named for Charles P. "Charlie" Erdmann. The announcement was made during DePauw's annual Alumni Reunion Weekend. (photo shows Charlie Erdmann flanked by his daughter and son, Deb and John)
Erdmann joined DePauw in 1946 and coached swimming, baseball and tennis, and he also was in charge of physical education. In 1965 he established a soccer team at DePauw. There have been only two soccer coaches in the university's history: Erdmann and the current coach,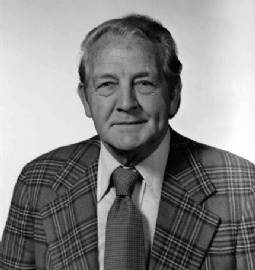 Page Cotton.
Prior to joining DePauw, he coached freshman swimming and baseball at Ohio State University and baseball, soccer and swimming at Oberlin College. He also coached and taught at the University of Chicago. (at right: 1974 photograph of Erdmann)
A believer in camping to help develop young people, Erdmann and his son, John, operate Camp Voyageur in Ely, Minn. Erdmann also is legendary for his piano playing at alumni, community and university events.
He is a graduate of Walnut Hills High School in Cincinnati and a long-time member of Kiwanis. Erdmann received a bachelor's degree at Springfield College and a master's in education at Ohio State University.
Back