Assistant US Attorney General & National Amber Alert Coordinator Deborah Daniels '73 Quoted in AP Story
September 15, 2004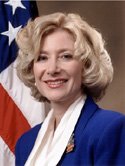 September 15, 2004, Greencastle, Ind. - "While we cannot risk desensitizing the public to the Amber Alert, we feel strongly that when a child is in danger and the case meets the Amber criteria, law enforcement should always issue an Amber Alert," Deborah Daniels, assistant U.S. attorney general for the Office of Justice Programs and the national Amber Alert coordinator, is quoted in an Associated Press story. Daniels is a 1973 graduate of DePauw University. The article examines a recent spate of Amber Alerts in the Boston area, "raising concerns about potentially desensitizing the public to the broadcasts."
The AP's Karen Testa points out, "The alerts are named after Amber Hagerman, a 9-year-old Texas girl who was abducted and found murdered in 1996. The alerts are only to be used when the children are under 18, where police believe the child is in imminent physical danger, when the child is believed abducted and not simply missing and when there is enough information for the alert to be effective.
The information is put on bridge and highway signs and supplied to broadcasters, who then disperse it statewide."
Read the article online by clicking here. Access a profile of Deborah Daniels here.
Back