Case Clay '96 Working With Smarty Jones and Carrying on Family Tradition, Writes Louisville Courier-Journal
September 17, 2004

September 17, 2004, Greencastle, Ind. - "Case Clay had not planned on returning" to his hometown of Midway, Kentucky, notes an article in the Louisville Courier-Journal. "After graduating with an economics degree from DePauw University in Greencastle, Indiana, in 1996, he moved to Chicago with dreams of breaking into acting. 'Growing up I had always had this notion in my mind that I wouldn't want to be in the horse business because I wouldn't want to be known as Robert Clay's son,' he said."
The story, by Marcus Green, tells of how Case Clay has returned to work at Three Chimneys Farm -- which his father founded in the early 1970s -- as co-director of sales. The farm "stands stallions, boards mares, foals babies and sells yearlings. It attracted thousands of visitors to see late Triple Crown winner Seattle Slew, who stood stud there until shortly before his death in 2002.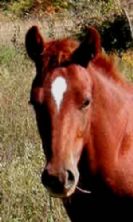 he current star of the thoroughbred world, Smarty Jones, is there," writes Green.
"I'm proud to be his son," Case Clay, 31, says. "I think that as far as succession in a business, there have been a lot of family businesses that have changed hands to the next generation and gone belly up. It's not a situation where it's on autopilot and it's just going to kind of carry itself on -- that challenge is exciting to me."
The writer points out, "In Chicago, Case Clay worked in improvisational comedy and for Arlington Park, Ernst & Young and the Hyatt Corp. He even considered starting a small advertising agency. There was one catch: He didn't know how to start a business. His father did. So the two began to talk every Saturday morning about business strategy. The conversations lasted for about a year. Not once did Robert Clay ask his son to join Three Chimneys. But 'the examples that he used were from the horse business, because that was the company he started,' Case Clay said. 'The more he talked about it the more interesting the horse business seemed to me.'"
Two years ago, Case Clay and his wife, Lorin, made the move to Kentucky. "He learned the ropes at Three Chimneys during the second half of 2002, then studied at the Irish National Stud farm in Kildare, Ireland, for the first half of 2003," Green writes. "Besides selling yearlings, Case Clay is busy working with the farm staff selling shares in Yes It's True, the farm's newest stallion, and selling four-year contracts to
breed with Smarty Jones, who will begin his first season at stud next winter."
"He's very knowledgeable for a young man in his position," says farm manager Randy Roberts. Farm President Dan Rosenberg adds, "He has a good eye for a horse. He is knowledgeable about the marketplace. He has excellent people skills and sound judgment."
Read the complete story, which includes a color photo of the Clays, at the Courier-Journal's Web site by clicking here.
Back