Former Vice President Dan Quayle '69 to Speak Tomorrow
November 7, 1995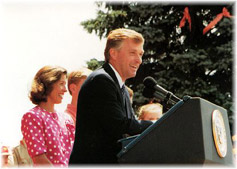 November 7, 1995, Greencastle, Ind. - Dan Quayle, 44th Vice President of the United States, will return to his alma mater, DePauw University, to give a convocation tomorrow. Quayle will speak at 10 a.m. in the Performing Arts Center, Kresge Auditorium. The speech is open and free to the public, and seating is first-come, first-served. While at DePauw, Quayle, a 1969 graduate of the University, also will have lunch with DePauw students and meet with DePauw faculty members.
Though victorious in 1988, Quayle received a stormy and controversial introduction to the American people. Four years later, however, the tables were turned. While running on a losing ticket, he won acclaim for a solid and loyal performance, best exemplified by what most observers considered the most dramatic event of the campaign -- the vice presidential debate with Senator Al Gore.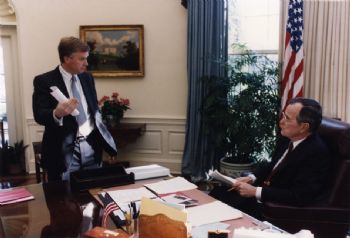 Dan Quayle is widely considered to have transformed the vice presidency into a position of advocacy and activism. He chaired both the National Space Council and President's Council on Competitiveness.
In a speech to the American Bar Association in August 1991, Quayle became the first national figure to identify legal reform as critical to strengthening American competitiveness in the global economy. During his four-year term, Vice President Quayle headed American delegations to 47 countries. He has had private meetings with most major world leaders, including Boris Yeltsin, Margaret Thatcher, Mikhail Gorbachev, Helmut Kohl, Francois Mitterrand, John Major, Jacques Chirac and Jiang Zemin. Most Americans recognize Quayle as the pioneer of a national conversation on family values that continues to this day.
Although it was the subject of much criticism and ridicule at the time, the message of his famous "Murphy Brown" speech in May 1992 has won many converts -- including President Bill Clinton and Atlantic Monthly magazine,
which ran a cover story in April 1993 titled "Dan Quayle Was Right."
Today Quayle and his wife, the former Marilyn Tucker, reside in Indianapolis with their three children, Tucker, Benjamin and Corinne. The former vice president serves as a trustee of the Hudson Institute and as a board member of several corporations. He has established his own company, BTC, named for the initials of his children. Mr. Quayle is also chairman of Issues '96, a national political action committee.
Continuing a family tradition, Quayle writes a weekly syndicated newspaper column. He is the author of Standing Firm, a vice presidential memoir that spent 15 weeks on the New York Times bestseller list. He travels extensively across America, speaking out on issues of national concern and sharing his vision for an America that is strong, competitive and spiritually sound.
Back