Madeleine Eagon Appointed Dean of Admission and Financial Aid
April 19, 1996
April 19, 1996, Greencastle, Ind. - Madeleine R. Eagon, a consultant for The College Board and former director of admission at Whitman College, will join DePauw University as dean of admission and financial aid, beginning June 1. Eagon succeeds Dean of Admission David C. Murray, who will direct a new program at DePauw that will work to encourage more Indiana high school students to attend college.
"Madeleine Eagon has an outstanding background as an admission and financial aid administrator in a selective, liberal arts college setting," President Robert G. Bottoms said. "She has significant experience nationally in dealing with the challenges that face higher education and particularly liberal arts education, and I am confident she will serve DePauw well."
Since February 1995, Eagon has served as an ExPAN consultant for The College Board in New York City. ExPAN is a comprehensive guidance and college application network available through high schools and The College Board's World Wide Web site. She developed a college admission application that The College Board plans to copyright and offer through computer software and World Wide Web sites.
"I really don't feel like I left higher education work because with The College Board I worked extensively with college admission officers and high school personnel," Eagon said. "What I really missed was contact with college applicants and their families. I'm very much looking forward to the personal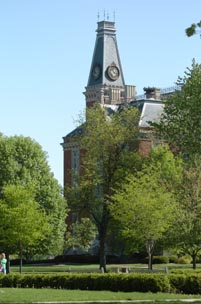 contact again in the position at DePauw and becoming active in the Greencastle community."
Prior to her role with The College Board, Eagon was for 10 years director of admission at Whitman College, a liberal arts college in Walla Walla, Washington. At Whitman her responsibilities included recruiting strategies, financial aid policies, campus visits and receptions, high school visits, relations with schools and a national admission network of alumni and parent volunteers. Previously, she served Whitman as assistant director of admission and then associate director of admission from 1978 to 1985.
Active in numerous professional organizations, Eagon has served as chair of the Western Regional Council of The College Board, chair of the Common Application Steering Committee, chair of the Washington Council on High School-College Relations and chair of the Pacific Northwest Independent Colleges. She received a Bachelor of Arts degree in political science at Whitman.
Back